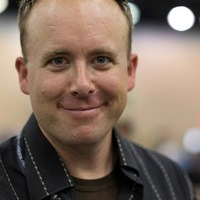 Master Knifemaker Collaborations: Les George
We here at Spartan Blades take our work seriously. Our goal is to produce the highest quality handcrafted knives possible, and to give our customers the best that the industry has to offer. While we design and produce most of our knives on our own, we get particularly excited about the opportunity to collaborate with true masters in the craft of knifemaking. One such master craftsman with whom we've had the pleasure of collaborating in the design of custom, handcrafted knives is Les George.
Les George
Les George has been making high quality custom knives since 1992, and has collaborated with some of the world's most talented knifemakers. He credits much of his progress and skill development to the late, great craftsman Stan Fujisaka. Based in Kaneohe, Hawaii, Stan Fujisaka helped Les take his knife making skills to the next level. In addition to Stan, Les points to Gary Bradburn of Kansas as a major influence, alongside Allen Elishewitz and Don Fogg.
Les has a military background, having served in the United States Marine Corps for more than 10 years. As a member of the marine corps, Les worked in a variety of roles, including as a heavy equipment mechanic, a U.S. Embassy Guard, and a Senior Explosive Ordnance Disposal Technician. Les's training encompasses a range of disciplines such as close quarters combat, weapons of mass destruction, improvised explosives and devices, advanced access and disablement, and explosive dynamic entry.
During his years of military service, Les was deployed in a number of locales throughout the world including South Africa, Peru, South Korea, Thailand, Laos, and Iraq. While in Iraq, Les worked as an Explosive Ordnance Disposal team leader, overseeing more than 300 Explosive Ordnance Disposal responses. Since leaving the marines, Les has served as an Unexploded Ordnance Technician and worked to clear unexploded munitions from various sites.
The Work of Les George and Spartan Blades
Les is a self confessed lover of daggers, and has a personal knife collection which includes most of the military daggers made by the U.S. and its allies over the course of the past 100 years.
In 2014, Les George and Spartan Blades won the Blade Magazine Knife of the Year Award - Collaboration Knife of the Year® for the infamous Spartan-George V-14 Dagger.
The Spartan-George V-14 was Spartan Blades' first collaboration with Les George. Our goal with this particular knife was to create a custom tactical combat knife that could pay homage to a classic profile while taking advantage of more modern materials and design. The Spartan-George V-14 Dagger is precision ground to a thickness of 0.25", making it a strong, reliable combat knife. The manufacturing process for this blade includes vacuum heating, double deep cryogenic treatment, and double tempering. As a result, the blade does an excellent job of keeping its edge without fear of breakage of poor durability.
The Spartan-George V-14 also includes a finely crafted handle with the perfect balance of texturing and ergonomics. Thanks to the handle's oblong shape and the flats included on both sides, indexing is improved significantly. This allows for easier use of the knife in low visibility situations. All in all, we're very proud of the fact that the Spartan-George V-14 is a genuine, reliable, and highly dependable combat dagger. We've even commissioned RMJ Tactical to produce a handcrafted, custom leather sheath for the V-14, available here.
We look forward to future collaborations with master knifemakers like Les George. Want to see more of what Spartan Blades has to offer? Browse our extensive catalogue of custom fixed blade and folding knives here!