Posted by By Dexter Ewing on Jul 9th 2020
In Part I of this Sharpening series, we covered the basics of knife sharpening. This time, we will discuss sharpener selection based on the knives you own and use, and what blade steels they have. Blade steels as you know by now, come in many different grades. You have the carbon steels which are relatively low cost to manufacture and work with and are easy to sharpen, then on the other end of the spectrum you have the high performance stainless steels that are very wear resistant and hold an edge while out in the field. Conversely, these steels are notoriously difficult to resharpen exactly because of that. Understanding what blade steels your knives have and the performance characteristics of the steel will tell you a lot about what sharpener that you will need to address your knives. And as any typical knife nut is, your collection will have knives that vary with blade steels. You might run the gamut from carbon steel all the way to the high performance stainless steels. Also, your degree of sharpening competency also figures into this as well, you want to have a sharpener that you feel very comfortable and confident in using. That translates into a better quality edge on your knives. And of course, your budget factors into this as well. Generally, the better and more complicated the sharpener is the more money it will cost. I do have one thing to say first. You know those drag-through sharpeners that you might see hanging in the sporting goods section or in the hand tools dept of stores? The one where they have the two carbides held at pre-set angles inside a plastic handle? While those are easy to use, stay away from them. In fact...RUN away from them. Take it from me, I have seen many blades ruined by those types of sharpeners because they remove too much steel.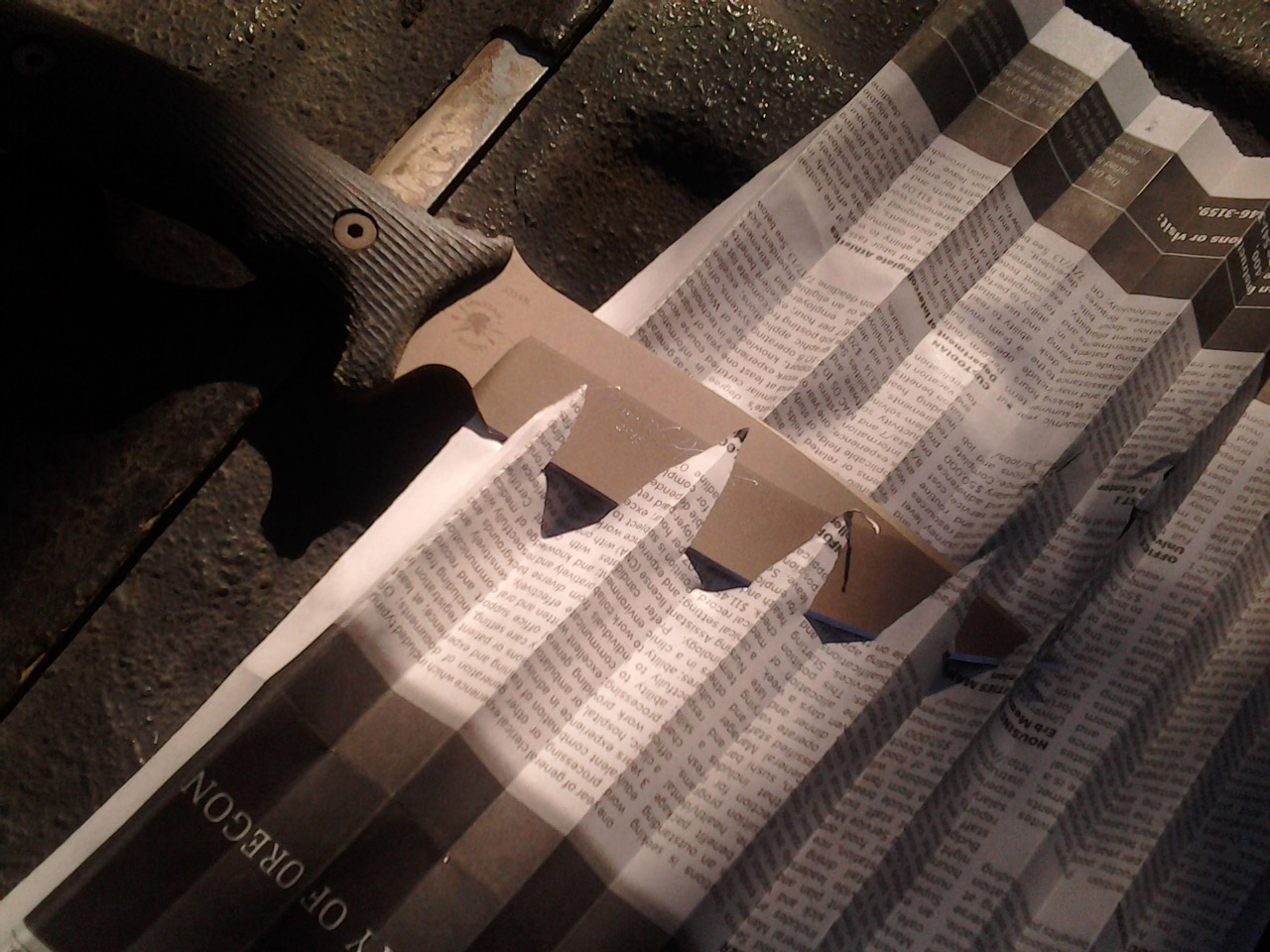 A CPM S35VN blade after hand sharpening Photo Courtesy of William W. Harsey Jr.
If you have knives that have carbon steels or low to mid-grade stainless steels. Firm examples would be 1095, 440A, 420HC, AUS-8, or 8Cr13MoV. I would suggest using a sharpening kit that helps to hold the sharpening angles precise, and removes all guesswork on your part. Spyderco Sharpmaker ($105.00 MSRP), Lansky Universal Knife Sharpening System ($49.95 MSRP), GATCO Edgemate ($45.95 MSRP), and the Work Sharp Angle Set Knife Sharpener ($59.95 MSRP). All these are easy to set up and use, and take the stress and guesswork out of blade sharpening. With the exception of the Work Sharp, these kits can be upgraded should the user desire, to diamond hones which make sharpening faster. The user will have to bear the cost of purchasing these but they are sold individually. But the base models of these kits work well with carbon steels and low grade stainless steels. Sure, you can use traditional flat benchstones to sharpen these as well but mastering freehand sharpening takes time and frustration level can be up there in the process of learning. Using these kits, they hold the angle consistent for you and all you have to do is put the blade in motion across the hones and you will be on your way to a sharp blade.
For mid-grade stainless all the way to the high performance stainless steels, I recommend going the diamond route only. Especially with high performance steels. Examples of these mid-grade to high performance stainless steels - AUS-8, 8Cr13MoV, 440C, ATS-34, Bohler N690, and 154CM. For the high performance stainless steels, we have CPM-S30V, CPM154, CPM-S35VN, CPM-S45VN, CPM-20CV, ELMAX, and Bohler M390. All of these steels boast edge retention as one of their main characteristics. So you know they are going to be difficult to resharpen. In my opinion, S30V is the most difficult to resharpen. Again, diamond type sharpeners would be the route to go here. We're talking about kits like the Work Sharp Angle Set ($59.95 MSRP), Lansky Deluxe Diamond Knife Sharpening Kit ($114.95 MSRP), GATCO Ultimate Diamond Knife Sharpening Kit ($105.25 MSRP), KME Sharpeners Knife Sharpening System ($199.95 MSRP), or the Wicked Edge WE100PR1 Pro Pack Sharpener with aluminum base ($499.99). If you wish to step it up a bit and make the jump into motorized sharpening, I highly recommend the Work Sharp Ken Onion Elite System. This system uses 1" x 18" abrasive belts in various grits and a variable speed motor. This system has the ability to grind on convex edges easily as well. One thing to note about transitioning from manual sharpening to powered sharpening - there is a learning curve and the margin of error is slimmer. If you mess up with a manual sharpener then it is easily corrected. If you mess up with a powered sharpener, you may not be able to fix it easily. It's up to you on being the judge on whether or not you are ready for this step. If you have previous or current experience with working with stationary belt sanders that are used in either metal working or wood working then I would say you will not have any issues with this transition. The Ken Onion Elite System makes short work of all the CPM high performance steels. I have a side business of knife and tool sharpening and I have four of the Ken Onion Elite systems on my sharpening bench and have logged in a ton of time using these so take it from me, I know that CPM steels can be easily maintained with this system.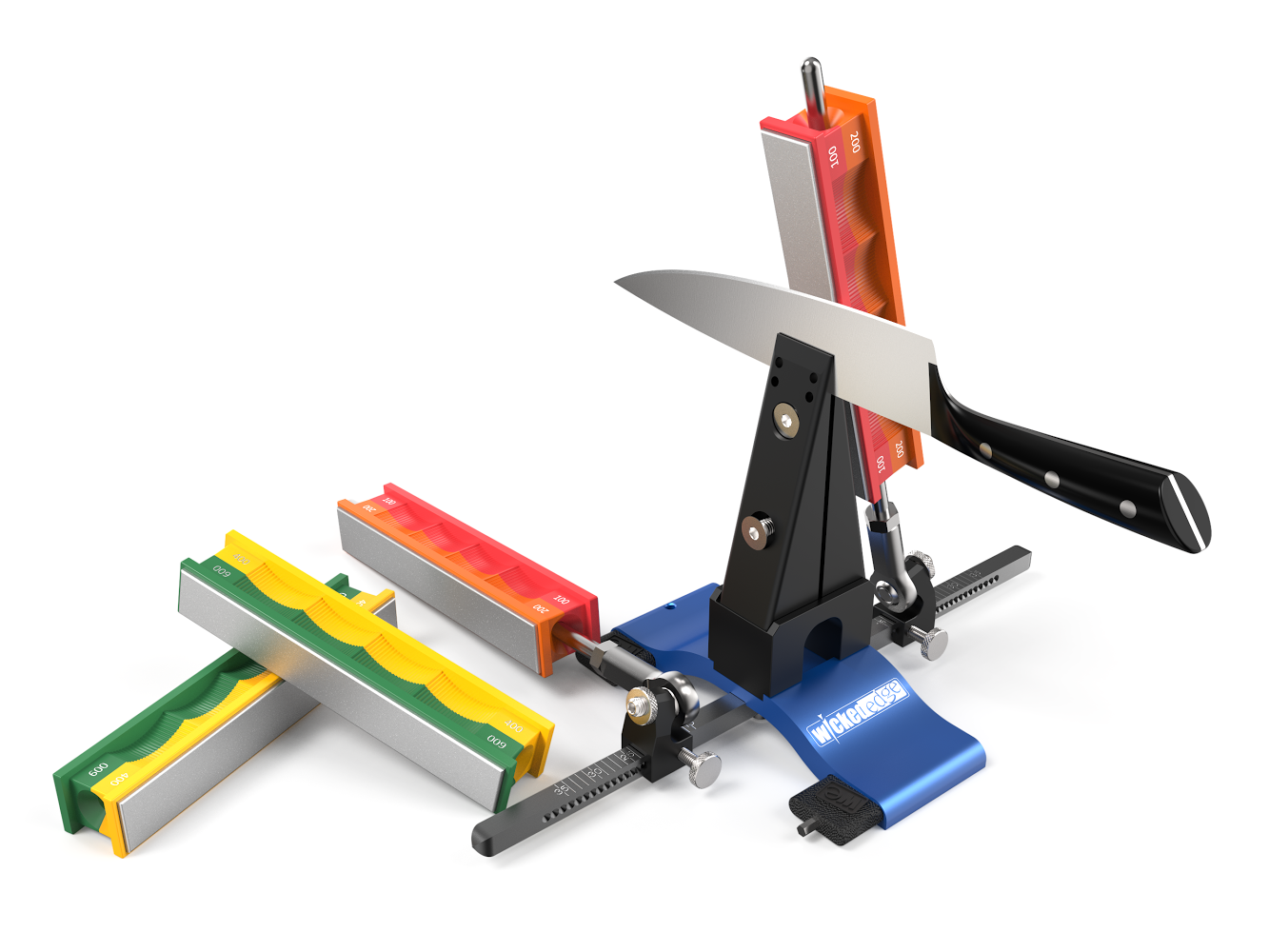 With practice The Wicked Edge Sharpening system can sharpen most any knife and steel to a keen edge
In closing, sharpener selection is critical to the types of blade steels that you will be sharpening. If you carefully select a sharpener that fits your budget and your needs, you'll find that the process of sharpening will be enjoyable. You can always rely on someone else to do your sharpening, like any knife friends who like to sharpen but there is something about learning a new skill that you can benefit from and not having to rely on someone else to do. The Internet is full of information and videos on the different sharpeners that are available, so it pays to do your homework first before making a sharpener purchase. The recommendations I have given here are just to start you off. There's a lot of good choices out there for sharpeners, just keep an open mind about it as you shop around. And if you are a member of any knife discussion forums, ask the membership about what they use to sharpen their knives and why. You'll get unbiased, real world experience tales. Good luck!