Posted by By Dexter Ewing on Sep 14th 2020
The Alala from Spartan Blades is the smallest knife in their Pro/Silver Line of knives. But don't let its compact size fool you, for this knife was designed for hard use and tough work. While it has the horsepower to get tough cutting jobs done, the size overall is kept to a minimum which means the Alala can be carried on the belt or in a backpack pocket comfortably, so the knife is with you on all your outdoor adventures. This is designed and engineered as a tactical knife but it also has possibilities in the outdoor market as well. Built in the USA by Ka-Bar Knives and designed by Spartan Blades in NC, this knife rounds out the Silver/Pro Line by adding in a compact fixed blade That can be carried and concealed easily, ready for whatever awaits you.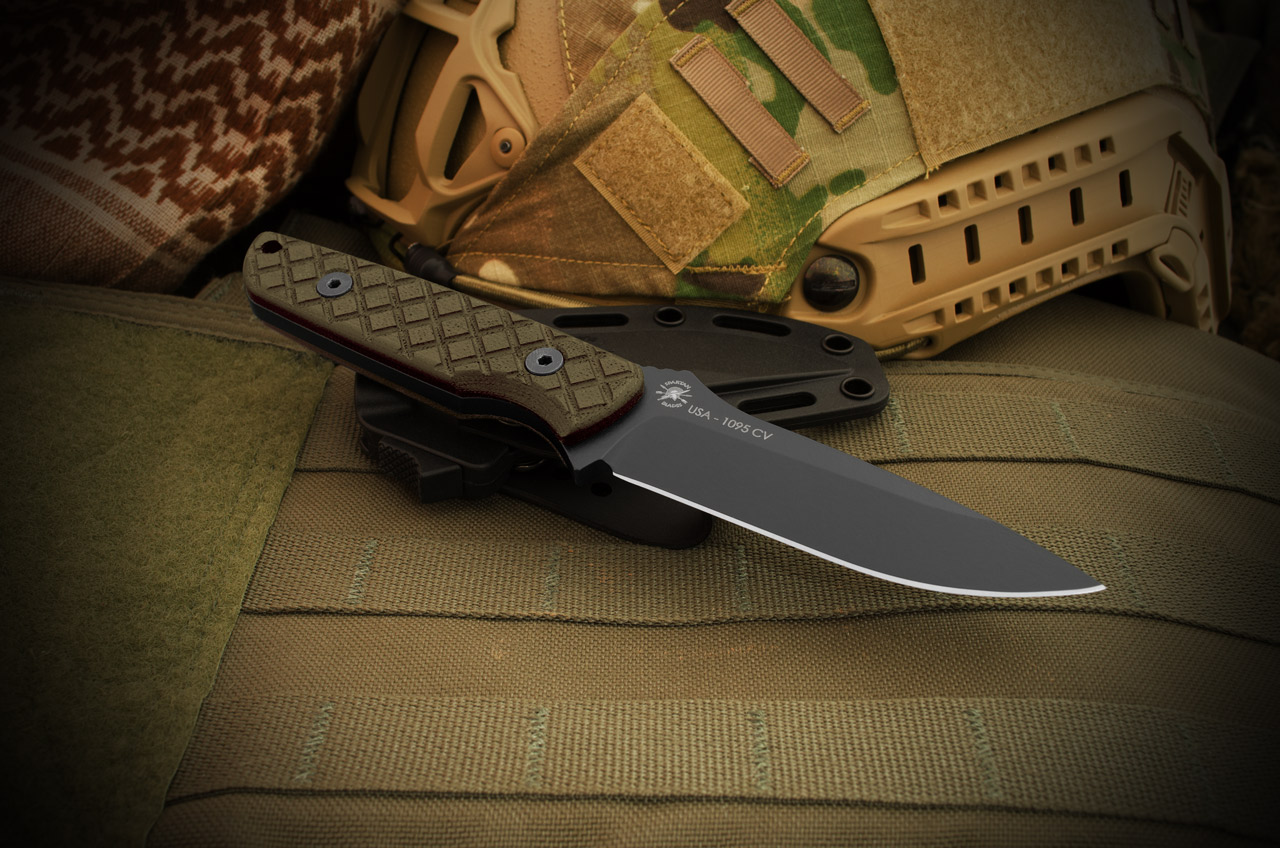 The Spartan Blades Alala
When people think of tactical fixed blades, they generally lean towards the larger blade sizes, such as 7 inches or above. You know, a knife that is big and brawny, that can easily chop or hack its way through saplings, vegetation, split wood, open cans, break glass, light duty prying, and such. You know, like the other Spartan Blades models like the Damysus, Machai, and Difensa. But tactical can also be on the more compact size, as not only is "tactical" a mindset, but a style of build as well. The guys at Spartan Blades will argue that there is no such thing a "Tactical Knife" but there is no arguing it has become a monicker for knives that can serve in a military role. Smaller tactical knives are just as versatile as their bigger brethren but while you may not be able to have the length or mass to hack and chop, you will have a stout blade that is easy to carry, also with a handle that's built for ergonomics and maximum hand retention. The fact that compact tactical knives can be carried more comfortably means that you'll have them with you and they are a great alternative to carrying a firearm in places that forbid those. If you normally carry a folding knife, especially a larger one, then a smaller fixed blade would be a great carry alternative as the overall length of the fixed blade approaches that of the opened folder. So if you are looking to get into fixed blades, getting a smaller fixed blade could be a good transition blade into this style of knife.
Starting with the blade, the Alala uses 1095 Cro-Van carbon steel for edge retention and ease of sharpening out in the field. The Pro/Silver Line is built by Ka-Bar Knives, and because they uses a ton of 1095 Cro-Van steel in their own knives, including the famous USMC fighting/utility knife that they have made for years it is well trusted. So, if 1095 is good enough for that knife, it's definitely great as a general user steel. The slender drop point shape offers a good belly for slicing and scraping. Personally, I tend to favor drop point blades for this purpose. Another thing to note about the Alala is how thick the blade stock is for this size of knife. It is very thick, coming in at 0.190 inches. That's quite a backbone for such a knife. Therefore, this is a knife that has the lateral strength to withstand some light prying. The flat grind of the blade ensures the tip is reinforced a bit against breakage. There's a notched thumbrest on the handle spine for comfortable placement of your thumb. The large, finger recess allows you to index your grip and in conjunction with said thumbrest, locks your grip in place on the handle. The knife feels very secure! The handle scales are micarta, in a choice of OD green or black. The micarta sports a heavy checkered machining pattern to promote a nonslip grip. All of the Pro/Silver line knives have micarta handles with this same texturing pattern. Micarta is a great choice to handle material for a knife of this style due to its weather resistance, resistance to fluid absorption, light weight, yet very strong material. Micarta may not be the most elegant synthetic handle material but it really does excel at being a durable and comfortable handle material. Spartan Blades pairs micrarta and 1095 Cro-Van together for all their Pro/Silver Line of knives. 1095 may not be the latest and greatest high horsepower blade steel but it's a steel that's proven itself time and again over the years, and it just flat-out works.
The sheath that comes with the Alala is an injection molded style that is form-fitting to the blade, similar to a genuine Kydex sheath. There's also an active retention lever built into the sheath. The sheath locks up around the elevated thumbrest on the handle spine. To unsheath the knife, simply wrap your grip around the handle and you thumb falls naturally on the retention lever. Push it upwards with your thumb and it unlocks and comes free of the sheath. When its locked inside the sheath there is no way it will fall out when held upside down and given a few hard shakes or bumps. This is the best blade retention system on the market now! There's also an included secondary button snap strap which offers carry alternatives and extra security for the Alala.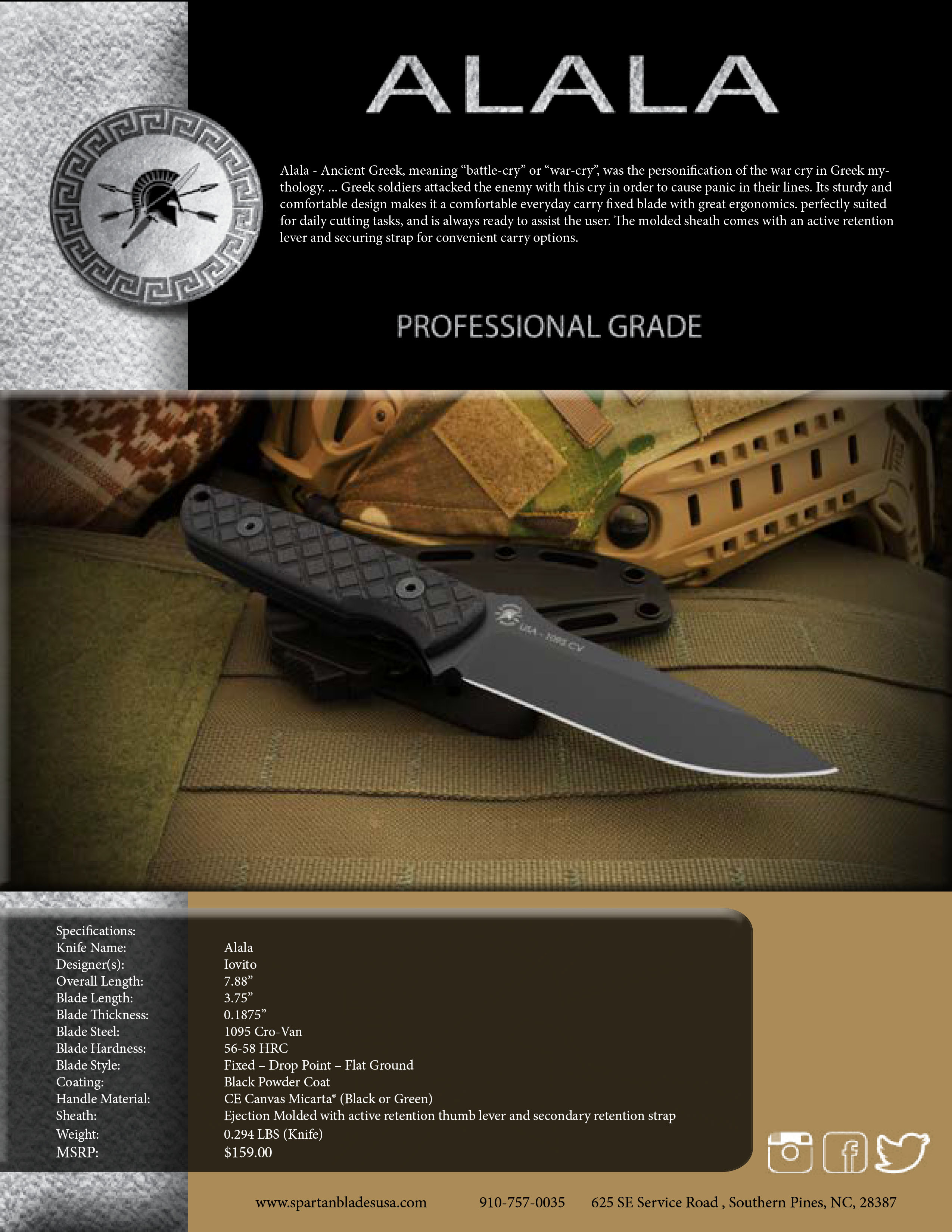 Spartan Blades Spec Sheet
If you're searching for a stout, compact fixed blade, look no further than the Alala. It's built tough, and able to take on some serious cutting work, indoors and out. And because the blade is made of 1095 Cro-Van steel, this means that it's easy to care for as well. A straightforward design, executed very well, and has an excellent sheath for the money. What else can one ask for? Designed in NC and manufactured in NY, the Alala has great value and at its suggested retail price of just $159.00, it possibly could be the perfect gateway knife into the world of Spartan Blades.