Posted by Dexter Ewing on Dec 20th 2020
Ever since Spartan Blades started in 2008, they have received questions on coming out with less expensive knives. Spartan made their name by making some of the most top notch production tactical fixed blades and folders. Made right here in the USA. And they came at a price as well but not everyone can afford a knife that expensive but a lot of folks were craving being able to purchase, own, and use a Spartan knife. Finally in 2020, Spartan Blades answered the call with the delivery of their first two imported knives, a part of their Bronze/Field Grade line of knives. Expertly made in Taiwan to Spartan's exacting specs, the Bronze/Field Grade knives offer the same high quality build with premium materials but at a fraction of the cost of a Spartan USA made knife. The Talos is one of the first Bronze/Field Grade knives released.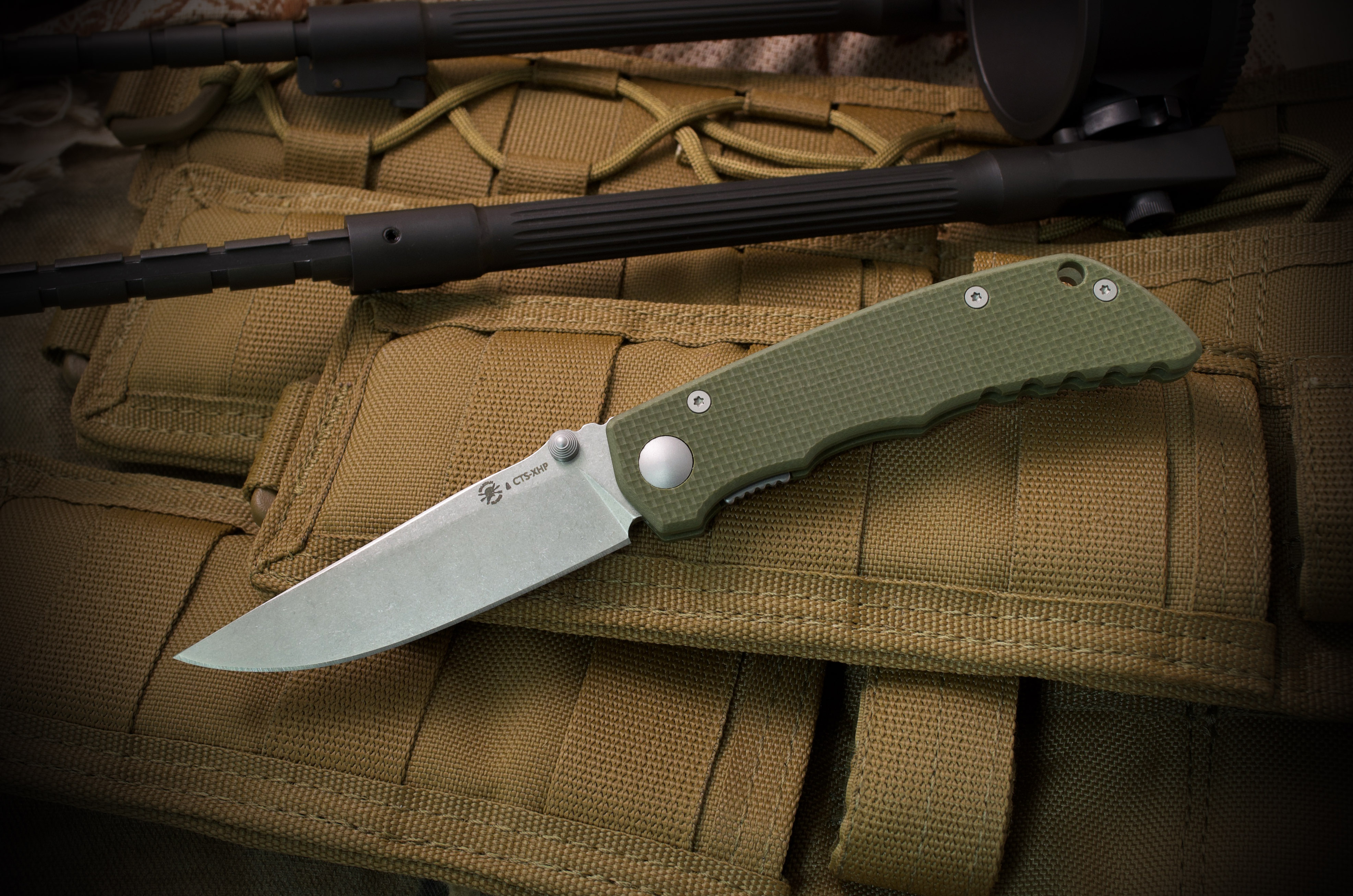 The Talos is one of the first Bronze/Field Grade knives released.
Very close in size to the Spartan Harsey 3.25 (Talos has a blade length of 3.12 inches, the SHF 3.25), the Talos makes an excellent choice for a working EDC folder that carries with minimal weight as well as footprint in the pocket. "The goal was to make a well-designed pocket knife that was light enough to not be noticed until reached for," states Bill Harsey. The drop point blade is machined from Carpenter CTS-XHP premium blade steel for awesome edge holding capabilities and is 61 Rockwell for hardness. This blade steel will definitely go the distance on those tough cutting jobs. Says Harsey of the chosen blade shape, "the blade style is my long, straight clip point." Perfect for all-around cutting tasks. Dual thumbstuds are fitted to the blade to permit rapid one handed deployment with either hand, and the nested liner lock engages the tang by locking the blade securely in the open position. The Talos is available in either black G-10 or OD green G-10, measuring 1/8 inch thick for each slab. "The locking spring plate is inset and held in place by two rear attachment screw sets," Harsey said. Inlaying the liner not only reduces the overall thickness of the handle, but allows Spartan to use a partial liner to save weight as well. Regardless of color, the G-10 features a light texturing pattern which helps to obtain a secure, nonslip grip even with wet hands. A fold-over, deep carry pocket clip affixes to the handle to carry the Talos in the tip up configuration in the pocket, making it easy to access yet, carry low enough in the pocket to be mostly concealed. A Harsey design hallmark is a highly functional handle shape. "Grip, control, and tactile reference are important especially in cold, wet conditions with fading light or full darkness," begins Harsey. "Good handle design should have subtle features that guide the user in knowing where the edge is without having to think about it much." The Talos incorporates these features, instilling user confidence no matter the conditions.
Very close in size to the Spartan Harsey 3.25 (Talos has a blade length of 3.12 inches)
The Talos has a special feature that not many knives in its price class have, and that is Spartan's exclusive Oil Infused Bronze Bushing System aka OIBBS. The blade rides on a sintered bronze bushing that is impregnated with oil. A self-lubricating bushing if you will. This system ensures tight but very smooth blade action. Over time, it naturally will wear in and become a bit smoother. Spartan Blades recommends that users do not add any lubricating oil at all to the pivot and let the OIBBS do its thing. Out of the box the action is very smooth but kind of tight. Don't loosen the pivot if you can help it. The OIBBS will break in over time and the action will smooth out.
exclusive Oil Infused Bronze Bushing System aka OIBBS.
Again, if you're looking for a hard working EDC folder, place the Talos high on your list. It checks all the boxes on your list of features for such a folder! Harsey said the Talos will pair very well with a fixed blade for field work. Or maybe even a larger folder. The possibilities are endless. Carried by itself, the Spartan Harsey Talos makes a great working EDC folder that is small enough to not attract unwanted attention but it is big enough to tackle most reasonable cutting chores. If you are a fan of well designed folders, make sure to place the Talos on your list of folders to check out.