Posted by Dexter Ewing on Sep 9th 2020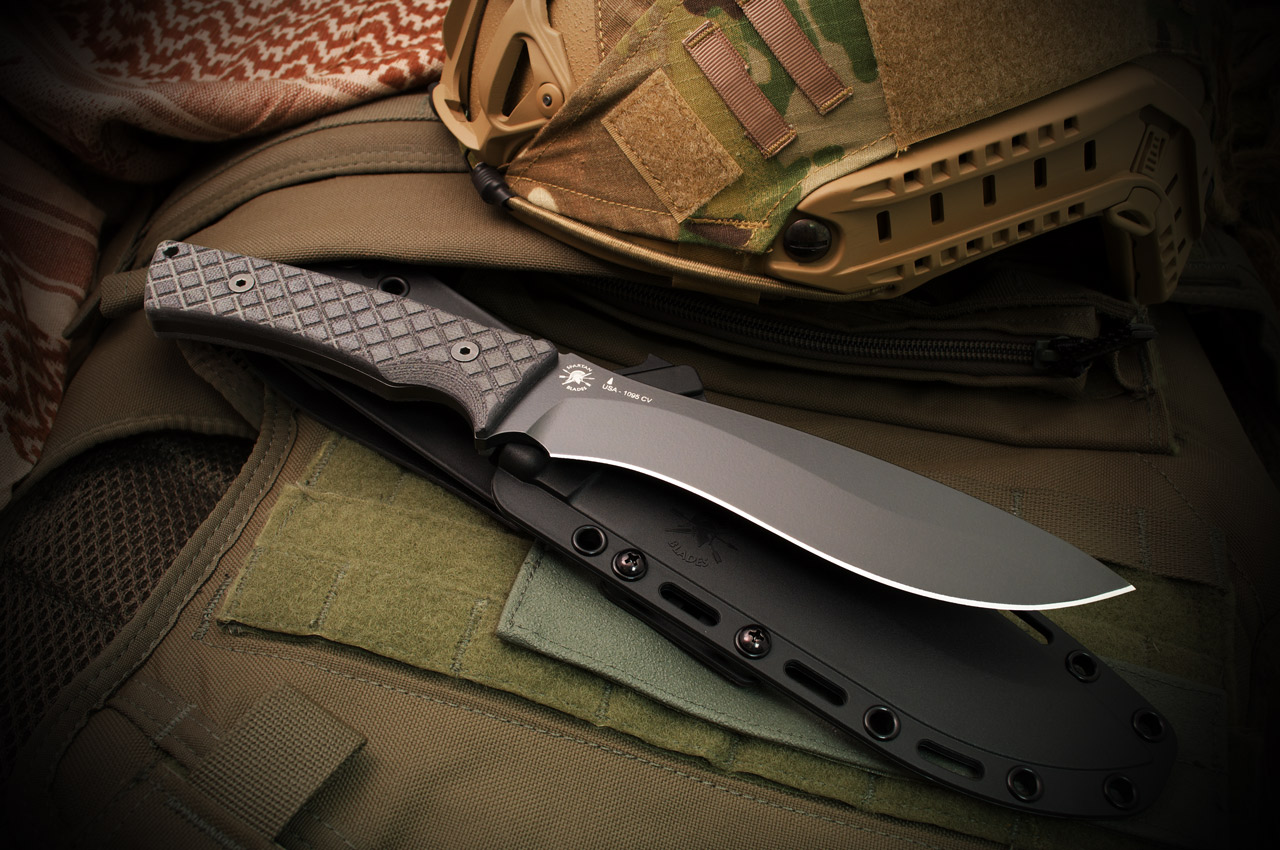 The Spartan Blades Machai is part of the Spartan Blades Silver/Pro Line of knives
At first glance, the thing that you notice first about the Spartan Blades Machai is the graceful recurve drop point blade. There's something about recurves that people either love, or they hate, there's just no in-between with these blade shapes. While a recurve blade does look real good and dare I say - sexy - there's a lot more to this blade shape than just pure aesthetics. Turns out, recurves are highly functional blades, as the sinewy shape of the cutting edge makes them great slicers as well as chopping tools. With the Machai, Spartan Blades wanted to have a knife that would fill the role of both a traditional cutting tool as well as an expedient chopping tool if one needed such. And the fact they put the Machai design into the Silver/Pro Grade product line means that this is an affordable, made in USA cutting tool that has a lot of potential.
Recurves excel at chopping. Why? When you swing a blade and it strikes the target (in this case, sapling or brush thicket), the cutting edge will be presenting itself at an angle, making it a powerful chopper. The sweet spot for a recurve blade lies within the bulbous part of the blade, which is its belly. As the cutting edge curves back towards the tang, the recessed portion is what sees less use. This inner portion of the cutting edge also works great for whittling and finer cutting work. And there is enough traditional blade tip left on the Machai's blade to allow the blade to pierce if necessary. If you know how to use a recurve blade properly, it can be a very handy cutting tool to have, that can possibly function as multiple separate knife designs in one. Perhaps the main reason why folks dislike recurve blades is they perceive them to be difficult to sharpen. Nothing can be further from the truth - they actually are fairly easy to sharpen if you choose the right sharpener. For recurve blades, I recommend a sharpener that has a rounded profile, such as a diamond coated steel rod sharpener. There are a few companies who manufacture such - Lansky, DMT, Hewlett, EZE-Lap, Smiths, Work Sharp, and the brands go on and on. Be sure the profile of the sharpener is round and even oval shape would work good as well. The rounded sharpener captures every bit of the cutting edge as it flows gracefully in and out. Do a search on the internet for sharpening recurve blades and you'll find a bunch of info and maybe even some how-to videos. 1095 Cro-Van carbon steel is used for the blade of the Machai. Since the Silver/Pro Grade line of knives is manufactured for Spartan Blades by Ka-Bar Knives, these knives are designed in NC and manufactured in NY. Ka-Bar works with a lot of 1095 Cro-Van in their own knives, and they have been very successful at bringing out the best qualities of this steel. It's a great all-around performer and since it isn't one of the super stainless steels that are the latest "in" materials on the knife market, the 1095 Cro-Van steel is very easy to resharpen out in the field. Spend less time working on your knife yet obtain a really sharp working edge. Those who have experience with this steel will know exactly what I am talking about here!
The handle of the Machai is identical to that of the Damysus, they share the same exact handle ergonomics as well as materials. Like the Damysus, the Machai is available in either black micarta or OD green micarta. The rectangular profile handle fits good in the hand, and along with the machined checkering, the grip quality of the micarta is enhanced for a powerful non-slip grip in any weather condition. Spartan Blades likes using micarta, as it is easy to machine as well as being a handle materials that is highly durable as it is comfortable. Micarta is lightweight yet strong, and resists absorption of most known fluids. The large finger recess at the front of the handle allows you to index your grip, and provides a tactile reference point so you know how the cutting edge is oriented if you grab for the knife in low light or no light conditions. The handle might be rather basic in shape, but it works very well for what it's designed for.
Speaking of basic, but works well. The Machai sheath is a form fitted injection molded sheath that has a retention thumb release lever. The blade locks into the sheath and can only be removed by using your thumb to press on the lever, which will release the blade. This prevents accidental loss of the knife. The sheath is engineered sturdy enough to withstand extended carry as well.
So, wherever your next outdoor adventure takes you, be sure to have a Machai strapped to your side to handle all the big cutting or chopping jobs that you might encounter on your next hunting trip or camping trip. Spartan Blades has engineered this knife very well, to allow it to be both a knife and a chopping tool. Not too many knives can lay claim to this.