Posted by By Dexter Ewing on Jun 26th 2020
Inside an unassuming brick building that used to be a restaurant located at 625 SE Service Road in the Sandhills of Southern Pines, NC, is where some of the best tactical fixed blade knives and folding tactical knives are manufactured. Spartan Blades USA is proud to call Southern Pines home. The region is marked by sandy soil, golf courses, and abundant pine trees (hence the name), who would have thought that this historic and quiet town would be renown worldwide company making tactical knives that go into harm's way in far flung regions of the world or into the woods with discerning outdoorsmen. Many Spartan Blades fans would like an opportunity to tour the facility but not everyone will get the chance. Luckily for me, I have been a lifelong resident of North Carolina and live only 2 hours away from Southern Pines, so visiting Curtis Iovito, Mark Carey, and the rest of the Spartan Blades crew is always a worthwhile day trip. Granted, reading someone else's account of a visit and seeing pictures doesn't do it justice. You will have to see for yourself if given the opportunity. Until then, here's a quick shop tour of the Spartan Blades facility.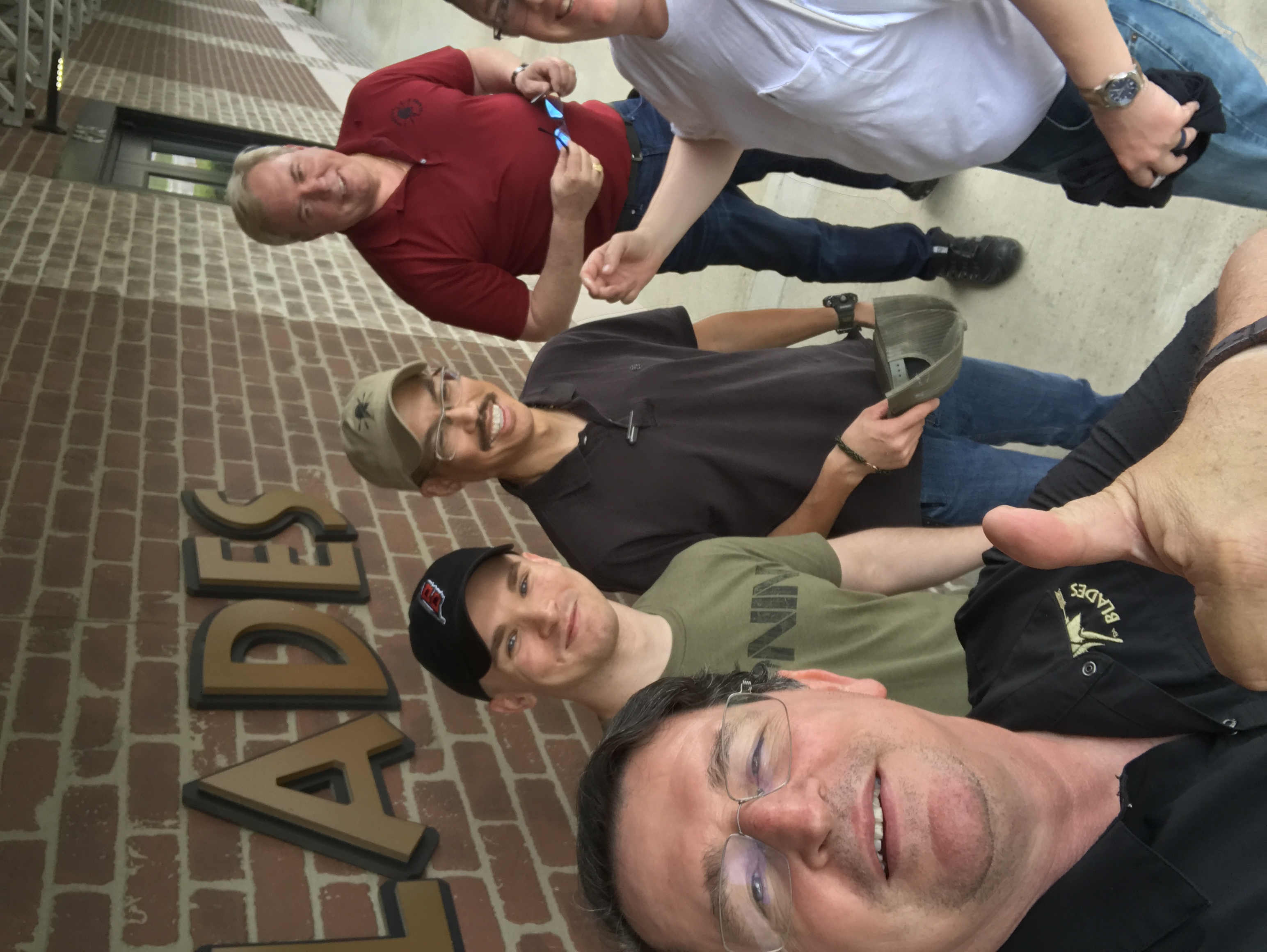 The author and friends at Spartan Blades
When you pull up to the building, there is absolutely no mistake that you have the correct place. The Spartan Blades text and familiar spartan helmet logo are prominently displayed on the front of the building next to the main entrance. Upon entering the facility, you will step into the showroom, where the entire Spartan Blades product line is proudly displayed inside glass cases. A large window on the wall in the showroom looks directly into the main assembly room, where you can see Spartan Blades craftsmen Jake Nelson, Lannie Harper, and AJ LaFell work expertly and tirelessly at putting the finishing touches and assembling all Spartan Blades knives.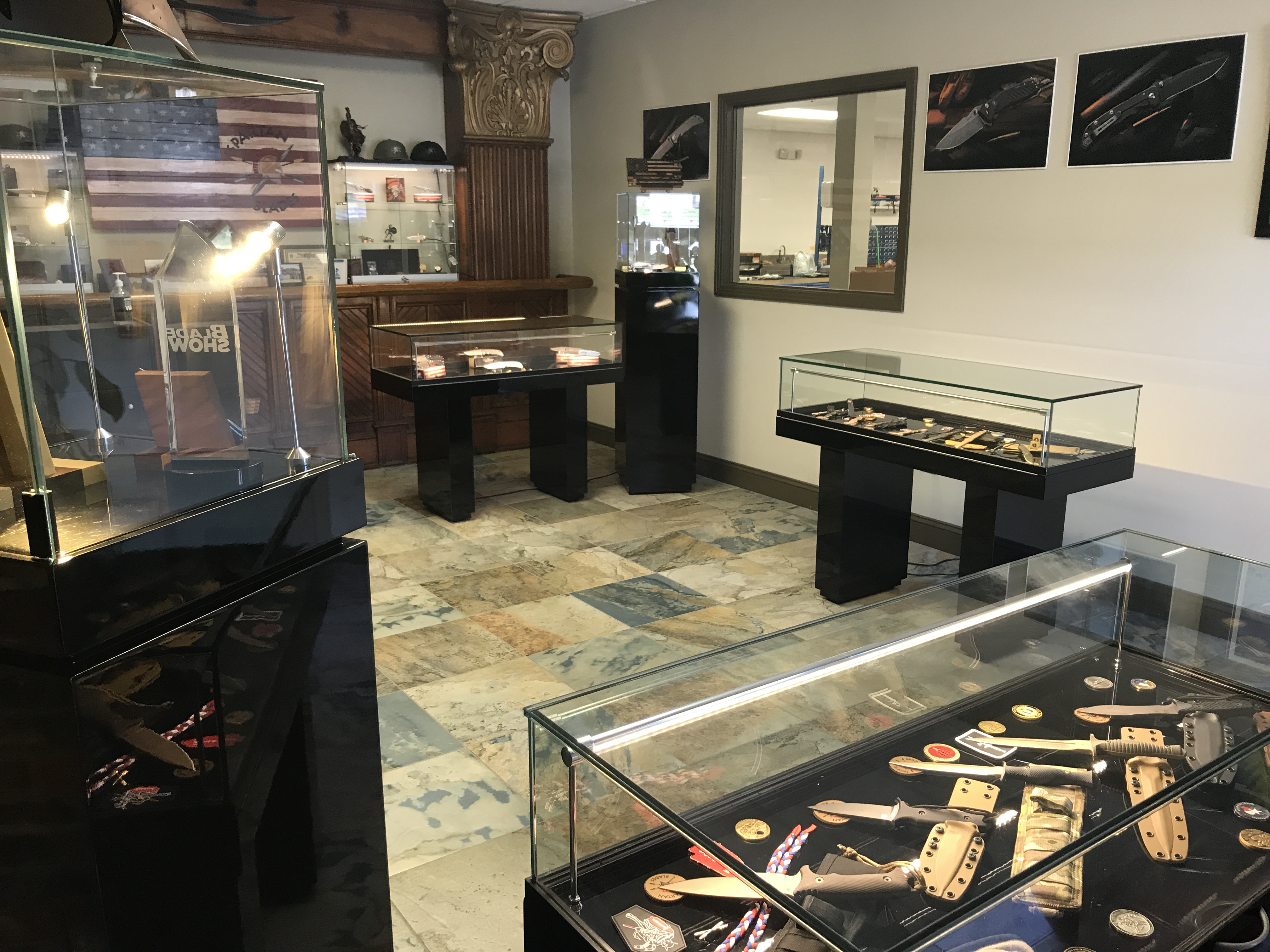 The Spartan Blade Show Room
If you visit Spartan Blades, either Curtis or Mark will be your "tour guide" and take you further into the Spartan Blades facility. Before you step into the main shop area, you will pass by the office and work area of Kim Harper, who handles customer service and shipping. If you've ordered a knife directly from Spartan, chances are good that you have either spoken on the phone with Kim and that she has processed your order and shipped out your knife. She also handles larger quantity shipments to dealers when they order from Spartan. And just past Kim's domain is the main shop. It's the largest room in the building, and everything is very organized there. You'll see assembly tables with bins of knife parts, shelves with more knife parts on them, a surface grinder, a high watt engraving laser, a lightbox for beauty shots of knives, assorted hand tools, and such. Jake, AJ, and Lannie are all cross-trained and can pretty much do final fitting and assembly of any Spartan model.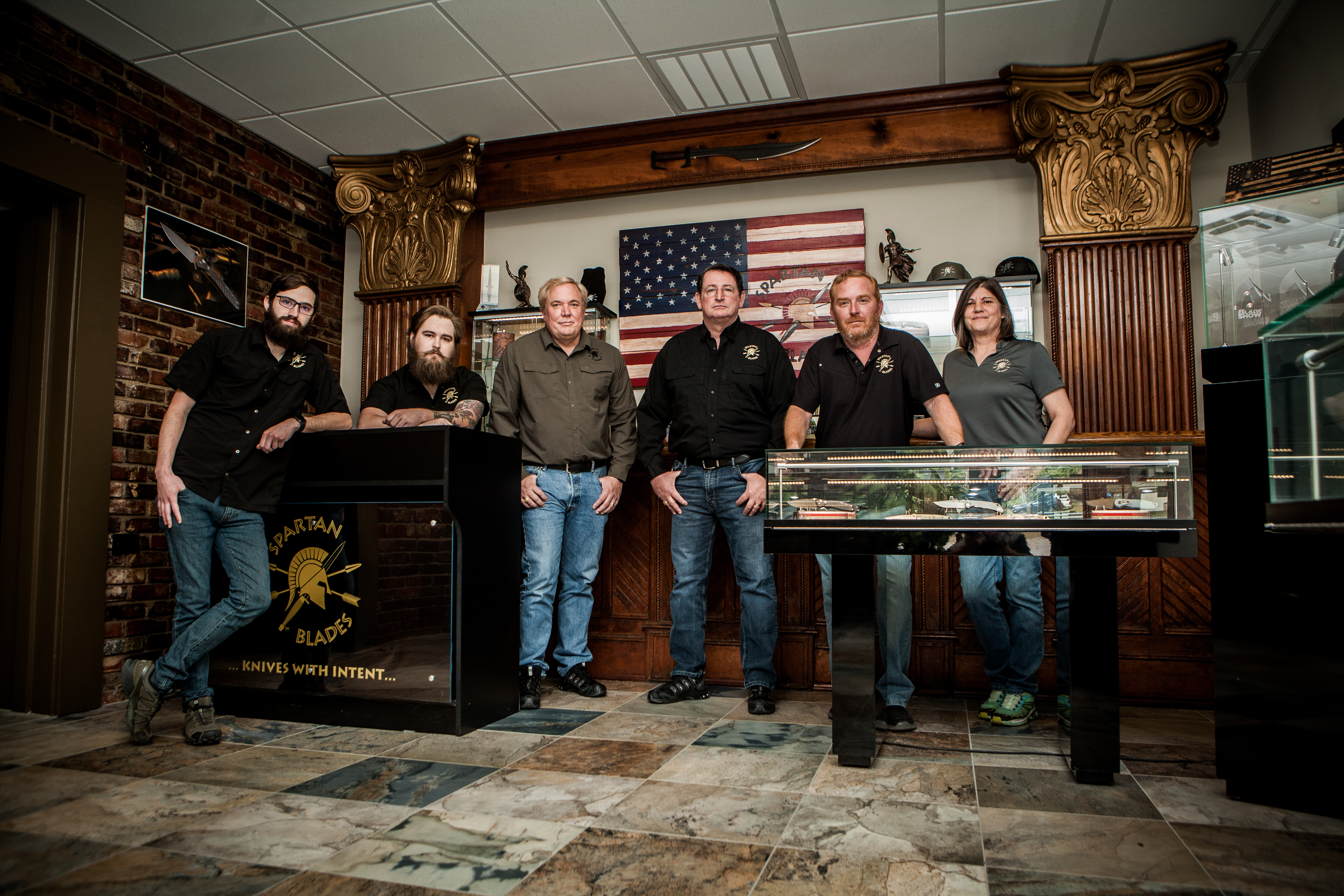 The Spartan Blades Crew
Being such a small crew, they are going to have to be diverse, and able to be flexible to process large orders or to cover for one when out on sick/vacation. One thing you won't see is a room or section in the main shop where bunches of pre-built/packaged knives are warehoused - waiting to be shipped out. Spartan Blades only builds enough complete knives to fulfill their orders. Other than that the knives only exist as parts rather than completely assembled units. Think of it as ordering from a sandwich shop. They make your sandwich only after you place the order for it! Also take note that while the current Spartan Blades tactical knife line is fractured into three distinct classes - Gold, Silver, and Bronze lines. The Gold Line is the top-of-the-line high end tactical knives that are made in the USA, and made right in the Southern Pines facility. The Silver Line is also made in USA, but in the Ka-Bar factory in Olean, NY. The Bronze Line is the import line, being sourced from Taiwan.
In a separate room off of the main shop is the grinding and sandblast room. The equipment is kept separate from the main shop not only for reduced noise levels in the main shop but also to contain the airborne debris and not have it spread out all over. In this room here you'll find a Wilmont Grinders 2 x 72 slack belt grinder they primarily use for sharpening and a bead blast cabinet along with a commercial duty air compressor. This is where the blades get bead blasted and cleaned up prior to being sent out for the PVD coating to be applied.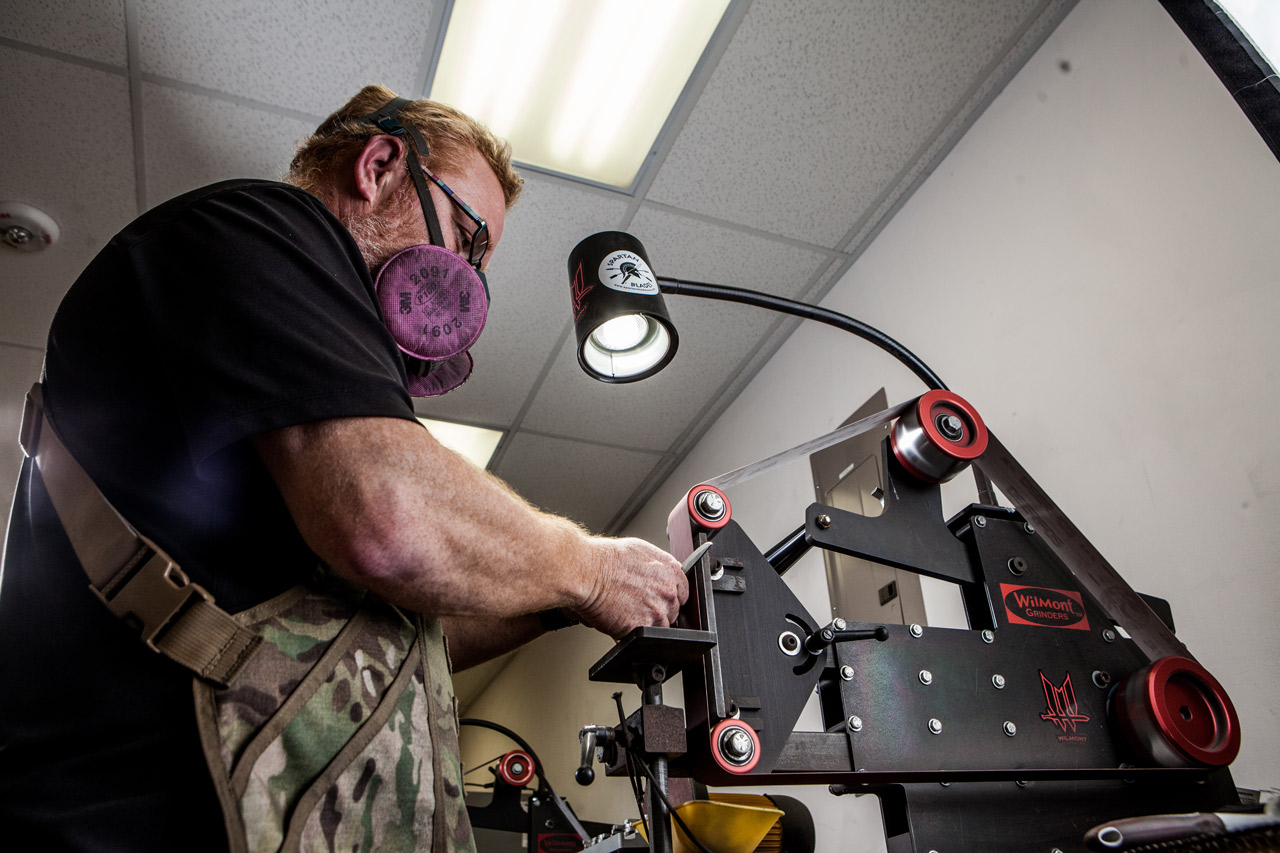 Lannie Harper Sharpening Knives
You'll notice a trash can right near the 2 x 72 grinder that will have what appears to be - for all intents and purposes - brand new belts laying in it. Curtis explained to me one time that they prefer to sharpen blades on fresh belts, as they cut more aggressively and don't build up a lot of heat to ruin the heat treat. The belts are sent to Curtis' son, who owns Classy Raptor Tactical and makes custom Glock backplates. The younger Iovito re-uses the belts for his business. Great idea! This way belts are used up by two businesses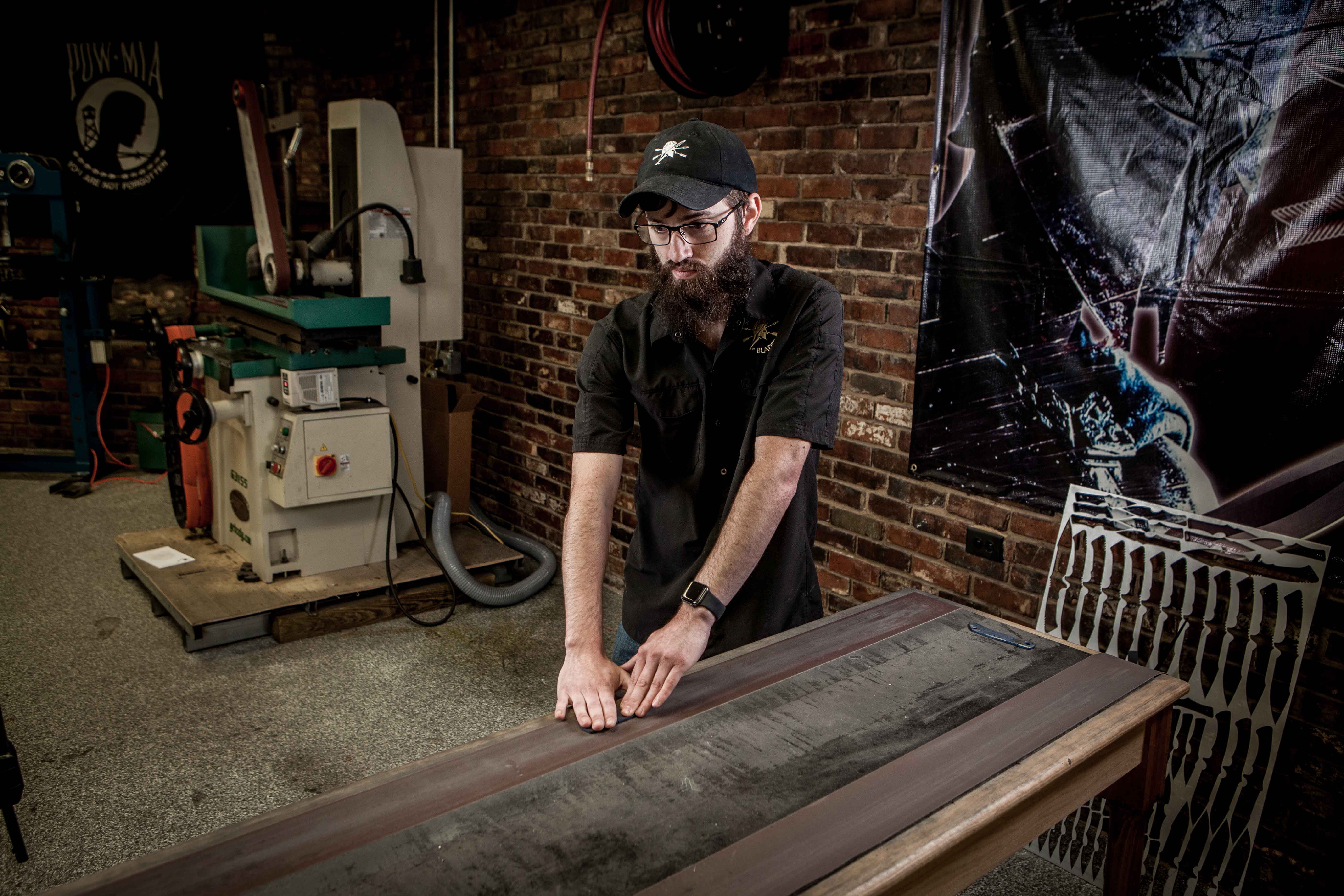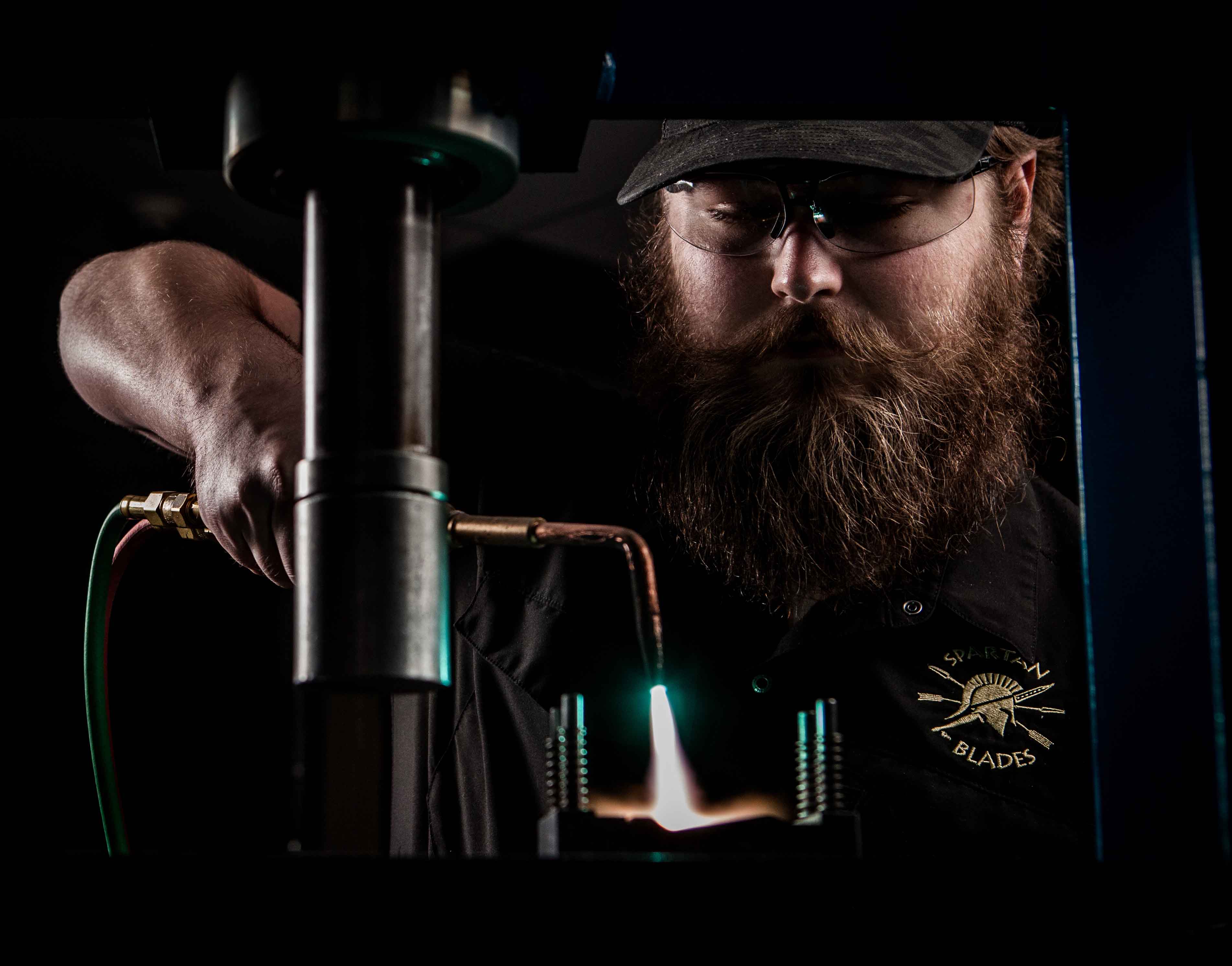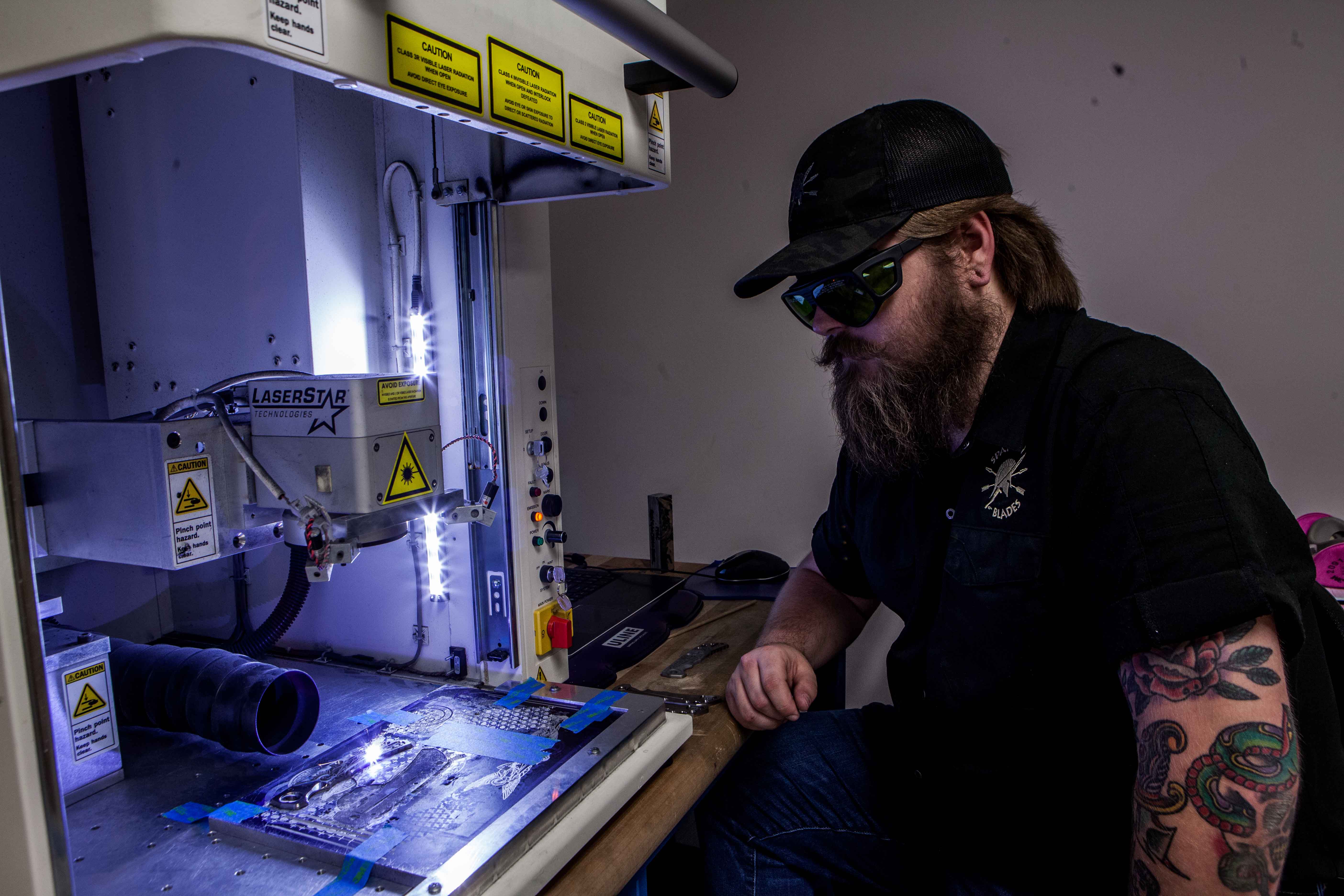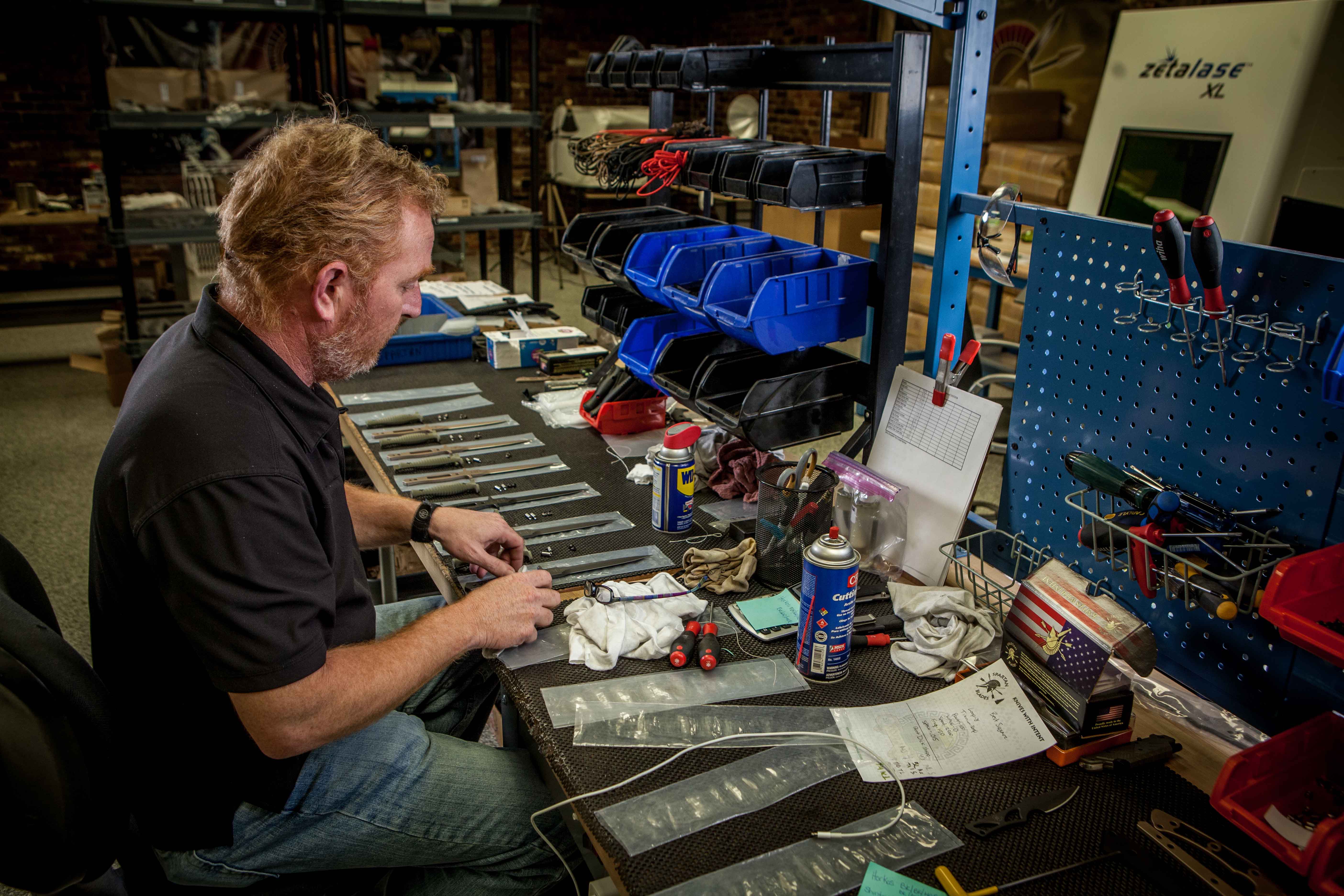 Jake Nelson, AJ LaFell, and Lannie Harper getting it done!
One thing you might ask at about this point in time is, why haven't any machining operations been mentioned? Spartan has one highly trained machinist named Tom who works in a separate location, about 10 mins away from the main Spartan facility. All he does is machining each and every Spartan Blades model. Hard to believe. ONE GUY who does almost all the machining! He has been with the company since day one and obviously, loves what he does. They have 4 CNC machining centers, three HAAS, 1 FANUC, and a HAAS CNC lathe. He pretty much works non-stop these days, sometimes puts in 13 hr days - with some Saturday work thrown in for good measure. This my friends - is dedication. Spartan Blades is lucky to have such a dedicated crew that turns out such high end tactical fixed blade knives and folding tactical knives. These are knives that anyone would be proud to own and use!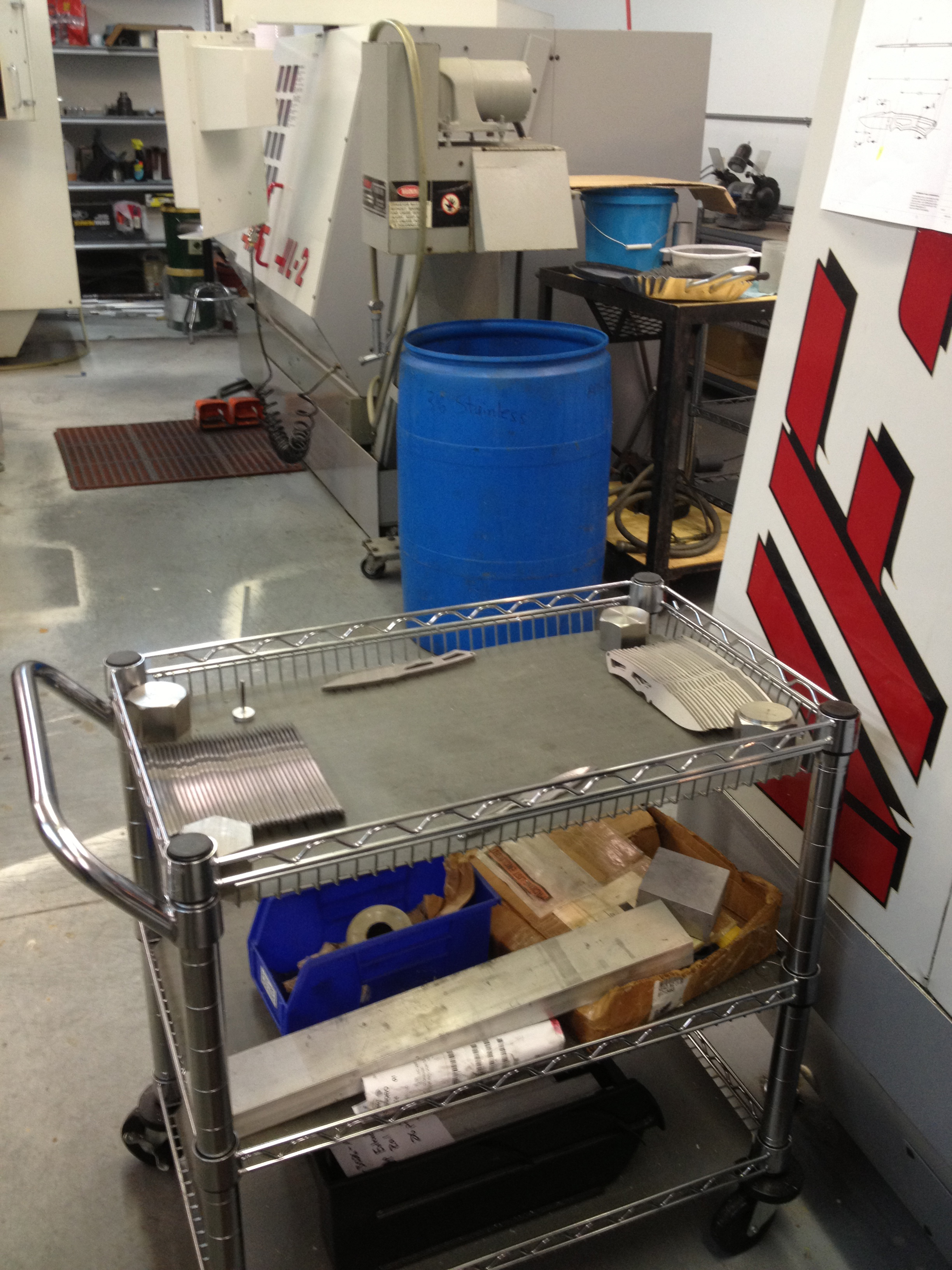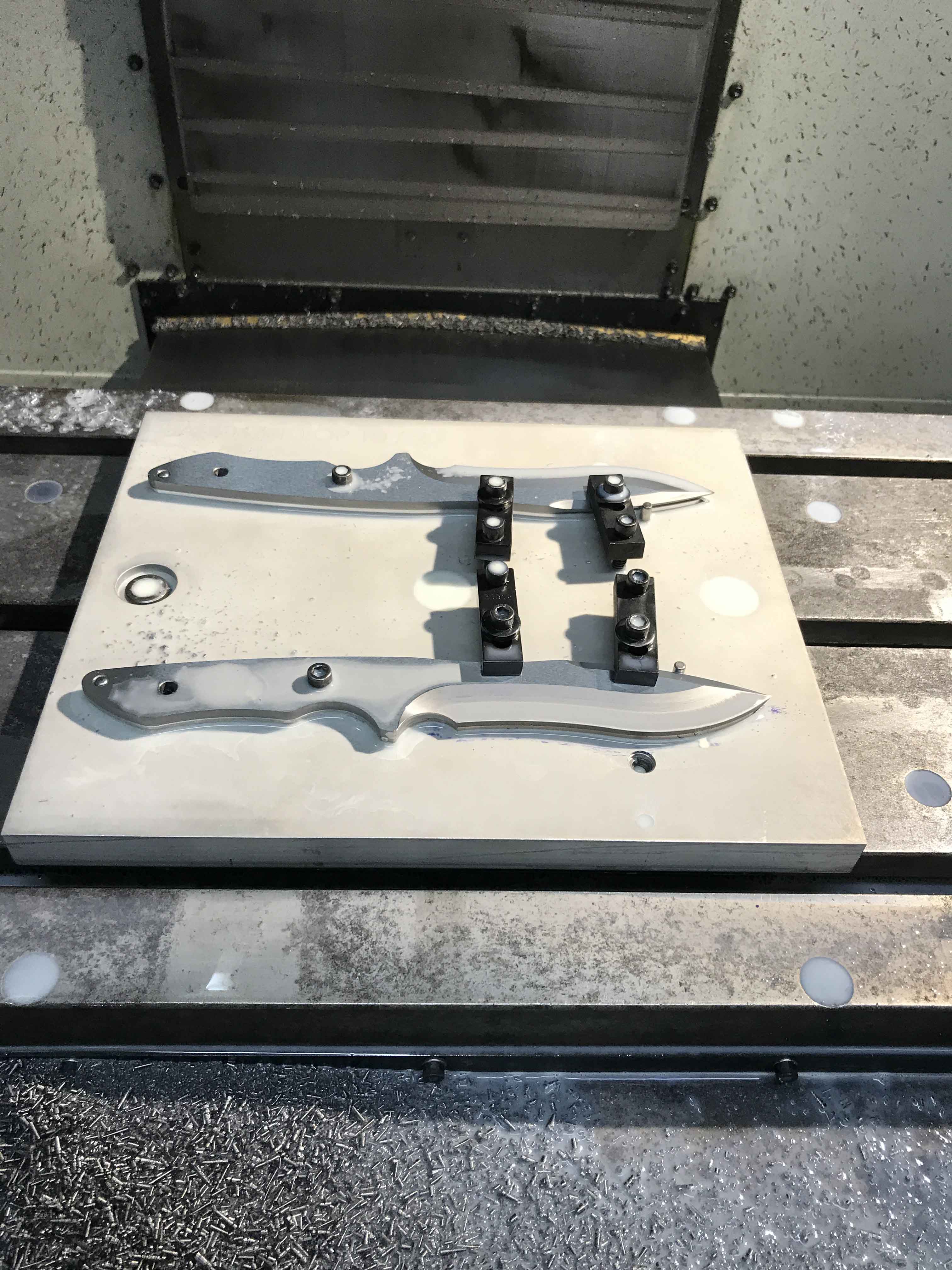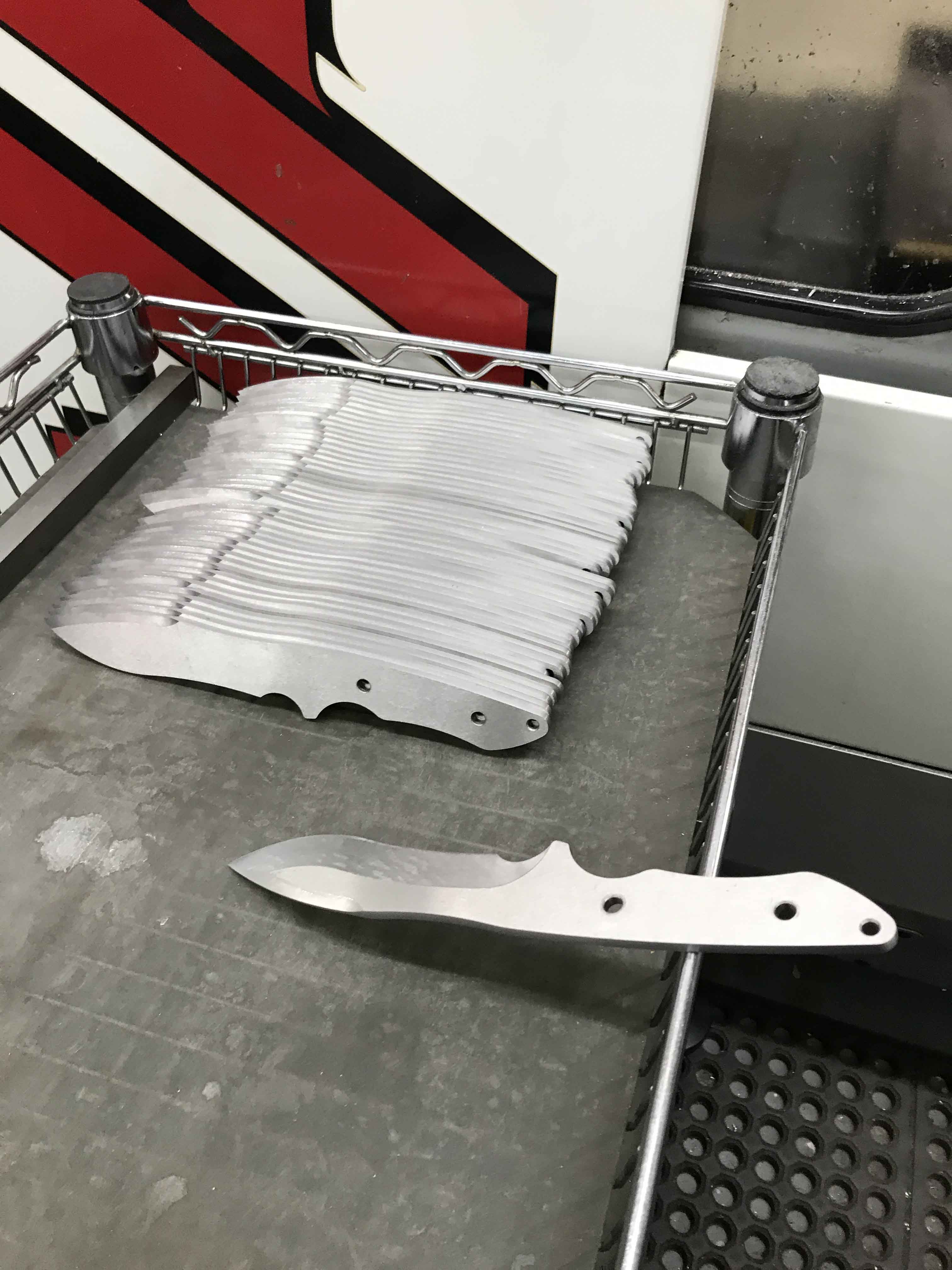 HAAS Machining Centers Milling Knives
So there you have it, a quick tour of the Spartan Blades facility. A primary reason why the main Spartan Blades facility doesn't have the machining operations in the headquarters is the geographical location. They are in a historic district in Southern Pines, and that prohibits any manufacturing activities. So the main Spartan HQ is assembly, finishing, laser etching, and shipping only. But, the point here is, by utilizing strict processes they have a system that works for them! They are able to efficiently process all the orders they receive for their knives, in very timely fashion. The fact they are able to accomplish so much with such little personnel is truly amazing and a testament to how an efficient operation is run. Spartan's competitors have more personnel than this and yet, the Spartan gang is holding their own for sure.