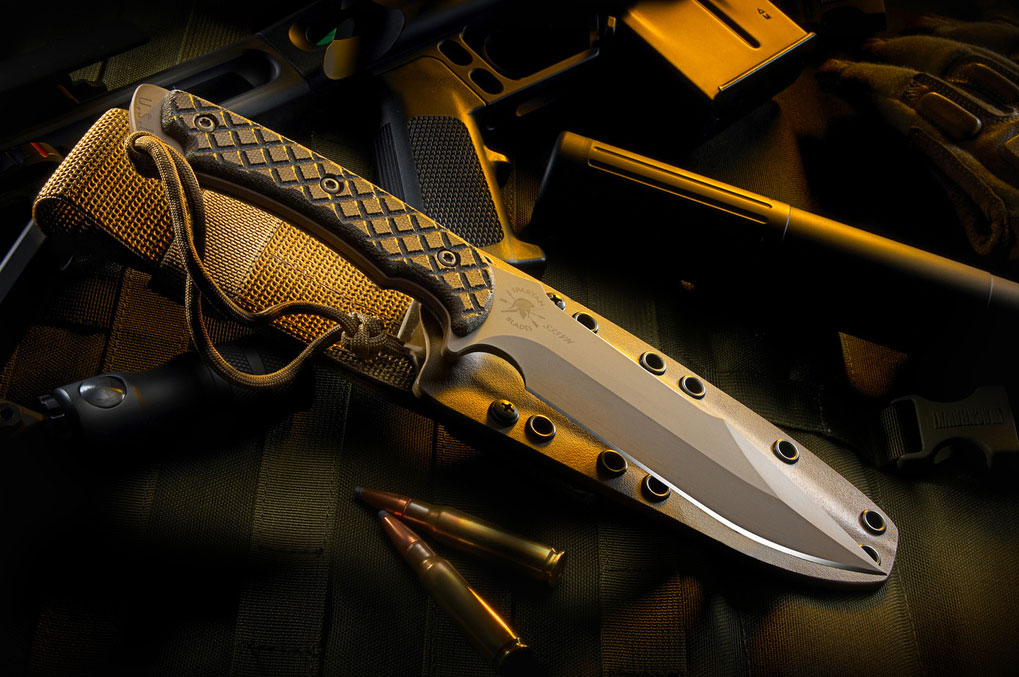 The Importance of a Good Combat Knife
We here at Spartan Blades believe wholeheartedly that the highest quality knives are those that are custom made and hand crafted. For people who understand the difference between the a high quality combat knife and a cheap imitation sold at the flea market, Spartan Blades offers a complete line of fixed blade knives, folding blade knives, other pocket tools, and knife accessories. Our knives are born from over forty years of military experience and this direct experience is what allows us to confidently offer a complete rundown on the most important features of a combat knife.
What is a Combat Knife?
Today, most companies that offer combat knives simply refer to their products as "tactical knives", or blades that are crafted to be used in extreme survival situations. While the word tactical denotes that the knife is mostly to be used as a utility tool, defending one's self is most certainly an extreme situation.
Combat knives are specifically designed for military use and as a defense tool. While most militaries around the world discontinued the manufacture and provision of knives as combat instruments after World War II.
Color Considerations
Many people will think that the most important element of a combat knife is the type of blade or the design of the knife itself. While both of these should be taken into consideration, one of the most essential (though often overlooked) considerations in combat knives is the color of the blade. Shiny and reflective blades are almost never used for combat knives as these draw attention from potential enemies. Rather, most combat blades will be made from dark and unreflective metal surfaces that are discreet and inconspicuous.
Fixed Blade versus Folding Blade Knife
At Spartan Blades, we manufacture precision crafted knives that are both fixed blade and folding blade. While both of these knife styles can be used for combat purposes, it's generally agreed upon that fixed blade knives are more appropriate for combat. For starters, fixed blade knives can be drawn faster during intense combat situations without failure. Furthermore, folding blade knives generally have a length limit while fixed blades can be as long as you want them to be (or carry / wield properly). Since fixed blade knives can be attached to your vest, webbing or belt, they are also more suitable to carry in an easy (and quick) to access area on your body.
Type of Blade
Of course, the type of blade is also an essential consideration when thinking about the best type of combat knife to purchase. As is the case for all types of knives, the best type of blade will largely depend on how you plan to use it (Drop Point, Spear Point, Tanto, Dagger, Etc.). In almost all cases, you will have to choose between a stainless steel blade, a carbon steel blade, or some type of hybrid.
Stainless steel offers the best corrosion resistance. However, some types of stainless steels tend to dull with hard use. We utilize CPM S35VN on the majority of our knives as it offers the best balance of edge retention, toughness, and corrosion resistance currently available in US made stainless knife steels. S35VN will hold an edge for a long deployment and should not require re-sharpening until return home. Occasional honing should keep your blade performing well.
Carbon steel, on the other hand, will take a great edge but dull and corrode faster, unless cared for properly. Here at Spartan Blades, we recommend using a stainless steel blade if you plan to use the knife for both combat or field use, as less care is needed, saving time for other tasks. If, however, you want a good survivalist or hunting knife, a carbon steel knife will re-sharpen easily with a whetstone, file, sand paper or other hones as compared to S35VN stainless steel that will require a ceramic or diamond hone.
Type of Handle
Lastly, when choosing the best combat knife, the type of handle is another important choice. Most importantly, you will want to find a finely crafted knife that includes a durable handle made from some sort of non-slip material. There is nothing worse than having a combat knife slip out of your hand when you most need it.
We recommend a full tang knife for strength and a handle scale of Micarta or G10. Micarta is the "grippyest" material and actually gets "grippyer" when wet. Both G10 and Micarta are good choices as they do not retain moisture or change dimension in heat or cold. They can also be easily cleaned and decontaminated.
Finding the best combat knife is a personal choice and should be carefully determined by your level of training. At Spartan Blades we offer a wide range of custom and precision made knives for combat, trekking, survival, everyday carry and everything in between! Click here to browse our collection and find the best combat knife for you!