Posted by By Dexter Ewing on Oct 19th 2020
Trends come and trends go. That the ebb and flow of the market. ANY market. Automobiles, fashion, electronics, home furnishings, tools….anything. Some trends come and when they do they explode onto the market and from there, consumer reception is the key to their longevity...or not, depending on the case. Some die a slow death, others crash-and-burn in grand fashion. Years from now we look back and laugh at such trends, they might be ridiculous now but at the time it wasn't so much. But, what if? WHAT IF a trend exploded onto the market and had such traction behind it and it took off? What if consumers responded very favorably to such a trend that it basically gives birth to a whole new industry within an industry? This is what we have seen with what is known today as the tactical folder.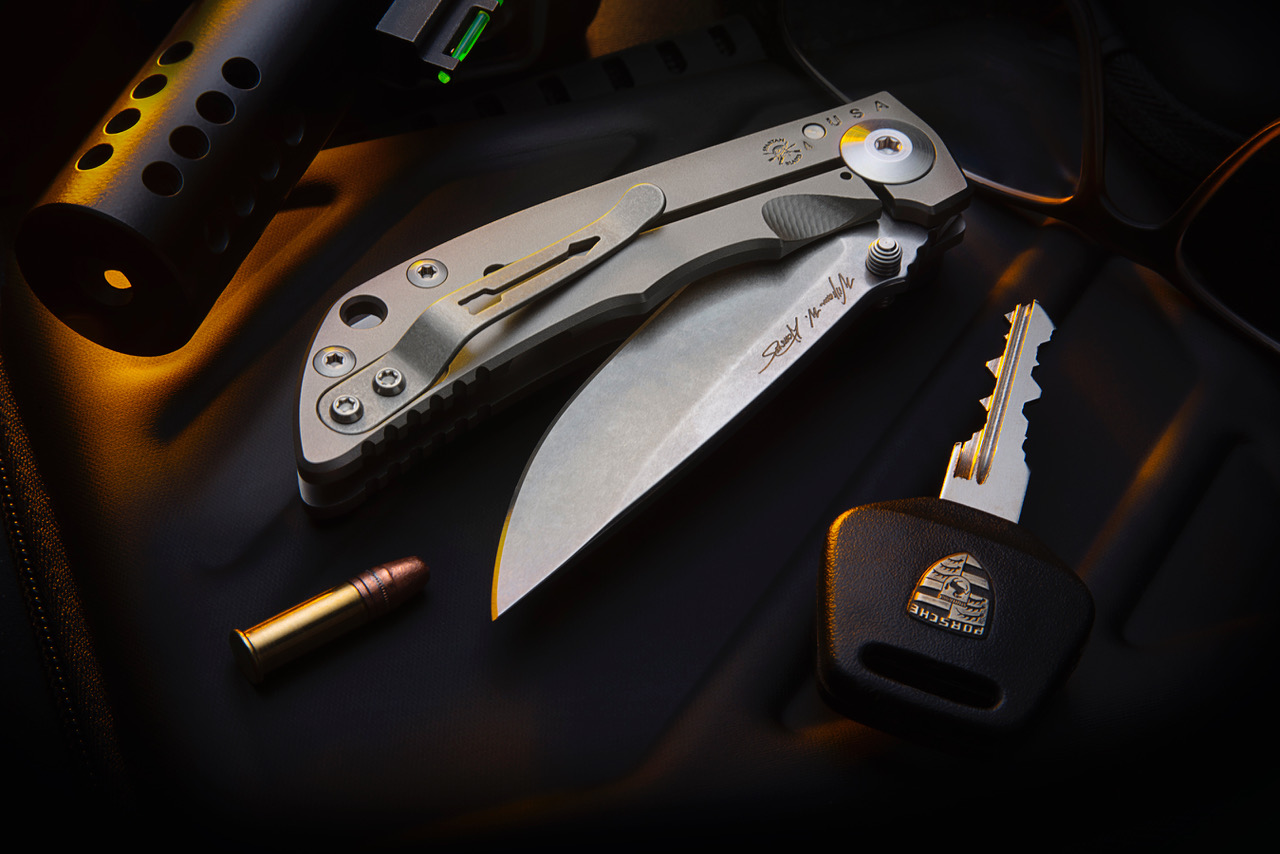 What if consumers responded very favorably to such a trend that it basically gives birth to a whole new industry within an industry?
It was around the late 1990's that we saw this trend emerge. Like any trend, it garnered it's fair share of naysayers, who spared no efforts to poo-poo its validity and championed a swift demise and never to be heard of again. Some said it was a fad. Some predicted that within a few years the tactical folder would be dead. Are you laughing yet? If you are, then you pretty much know this story. Here we are, over 20 years later, and tactical folders are still a hot trend in the knife industry and have sort of taken on a life of their own. However, this tactical folder thing extends more beyond just physical appearance. It redefined how we build knives and redefined how we use knives. Let's stop and think of this for a minute. Look at all the modern conveniences we enjoy about carrying a folding knife. There's some sort of locking mechanism to secure the blade in the open position. There's also some sort of device on the blade that permits rapid one-hand deployment. There's also the pocket clip that revolutionized how these knives are carried. There's also advanced materials for blades and handles that make tactical folders more durable as well as light weight. These advancements are more commonplace in the knife industry today than they ever have been, with nearly every knife manufacturer producing tactical folders in varying price brackets. Originally developed for those who go into harm's way with either the military or law enforcement, now everyone gets to enjoy the benefits of tactical folders. All these modern conveniences I just listed benefit ALL knife users and no longer a targeted group or groups of knife users.
Let's pause and think about where the knife industry was prior to the development of the modern tactical folder. The closest thing to it back then was what we call the folding hunter. The most iconic of all (and used only for illustration purposes), is the Buck 110 Folding Hunter. Still in production today, the 110 is and has been a single blade folder with a lockback mechanism. The handle is capped off at either end by brass bolsters, and the handle material is a resin-impregnated hardwood. The blade is made of a lower grade stainless steel, a 400 series stainless variant that had (at that time) good edge holding and ease of resharpening. The clip point blade shape offered a good belly for slicing and cutting jobs, with a defined blade tip for piercing or scoring jobs. The 110 is a heavy knife and due to its physical size, definitely not a knife that one would carry riding in the bottom of the pocket. So, each 110 includes a leather belt sheath. It also required two hands to open as well as close. The 110 and it's many copies by other manufacturers, was the tactical folder of its heyday. Originally developed for outdoorsmen, the 100 rapidly found its way onto the belts of law enforcement, military, as well as tradesmen and anyone else who just needed a rugged, heavy duty built folding knife. These knives were used, they were abused, and they were passed on from generation to generation, which is a testament to their build quality. Along the way there were also some innovative accessories for the 110 and its variants, such as the bolt-on cylindrical thumb lug that permitted the blade to be thumbed open with one hand and even a specially designed horizontal belt sheath that carried the knife in the partially closed position inside. The idea here was when you would pull the handle out of the sheath, the blade would be pulled open as the knife exited the sheath so it would have automatic manual deployment, if you follow me. Sort of like the predecessor to the patented Emerson Knives Wave Remote Opener feature. Anyone remember these? The 110 was the tactical folder of its heyday due to its versatility and ruggedness. It also spawned its own variants as well, from a lighter weight molded thermoplastic version to a lighter weight titanium handle lockback version too. If you carefully study everything I detailed in this paragraph, you will easily see the gradual emergence of the modern tactical folder as we know it today. The attempts at one hand opening or rapid deployment opening, titanium handles, and even molded handles.
Then, around the late 1990's a new breed of single blade lockblade folding knife started to make an appearance on the knife market, basically taking the 110 Folding Hunter design and advancing it. Still built in heavy duty fashion, the new breed of knife was slimmer, lighter, offered one hand opening as well as one hand closing, a linerlock mechanism that allowed for one hand unlocking and closing, and a pocket clip which totally eliminated the bulk of having to carry a heavy lockback in its sheath on your belt. Some of the earliest production tactical folders I can recall were the Spyderco C15 Teruola design, the Spyderco C16 Wayne Goddard lockback, and the Benchmade 970 Emerson CQC7...all these knives are currently out of production. Consumers loved the conveniences. Ever been working on something where you were holding something with one hand and had only one hand free to extract your knife, open the blade, make the cut, then close the blade and put the knife back into your pocket - all without using two hands to manipulate the knife? And around the same time too, we saw the modern automatic folder also concurrently emerge as well. These have all the hallmarks of manual opening tactical folders but the difference being the blade is under spring tension when closed and is set into motion by pressing a button inlaid into the handle.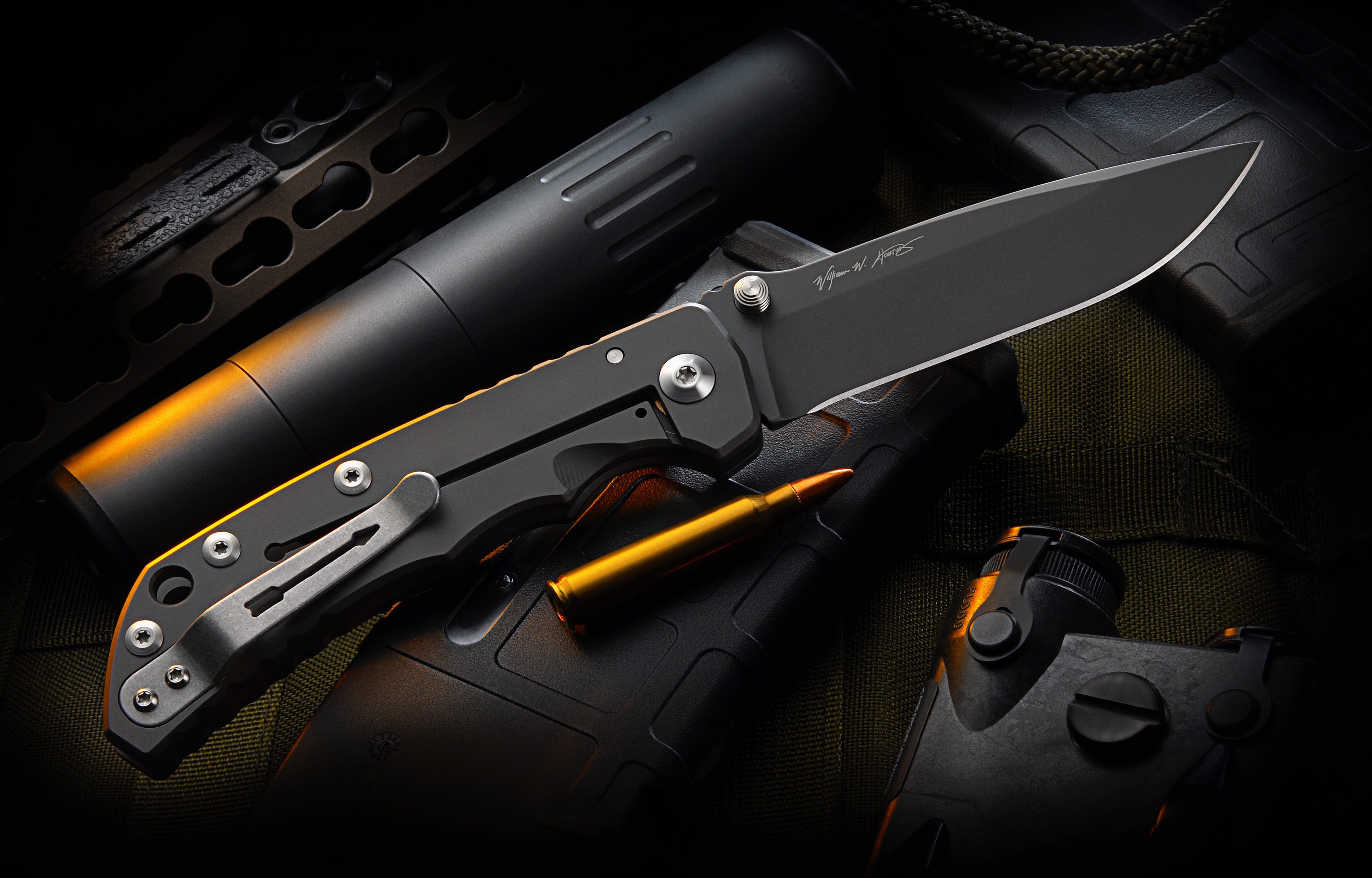 Today's modern production tactical folders are the most advanced they ever have been, using the same materials that are found in higher priced custom tactical folders.
It didn't take long for the tactical folder in general to take off. By the time the new century rolled around (2000), traction was rapidly gaining on the tactical folder genre. More manufacturers were catching on and seeing that this was something they needed in on. On the consumer end, it meant more and more choices across many price brackets so there were such folders from budget all the way to high end and in between. There was something for everyone. Sales were brisk and the more time passed the more this genre gained momentum. It became a force to be reckoned with by the late 2000's, merely 10 years after the beginning. The more momentum it gained, the more the critics were silenced. No, this was not just a passing fad that would be history in a mere few short years. This trend was it's own viable life form.
Then there was the next wave of innovations within tactical folders that further helped to propel this genre forward. Remember all the assisted opening craze? Knifemaker Ken Onion of Kaneohe, Hawaii, invented his Speedsafe assisted opener in 1998 and Kershaw Knives picked him up to do some collaborations, with Kershaw being the very first knife company to produce an assisted opening tactical folder using Ken's Speedsafe mechanism. This kick-started a sub-trend within tactical folders, which saw a bunch of manufacturers pursuing assisted opening. This also took off as well, helping to boost the sales of tactical folders. The late knifemaker Harold J. "Kit' Carson of Vine Grove, KY was credited with popularizing what is known as the flipper tab opening for tactical folders. This is the tabbed protrusion extended from the blade tang and through the handle of the closed knife. Set your index finger on the protrusion and give your finger a jerk and the blade will rotate open quickly, with one hand. Mind you, Carson didn't invent the flipper, though, he credited knifemaker Randall Gilbreath with being the first he saw to use a flipper-like protrusion coming off the tangs of his folders. However, in recent years as of this writing, knifemaker Flavio Ikoma from Brazil, invented a tactical folder that has bearings in the pivot, escalating the blade action to glassy smoothness that was never experienced before. So now we have tactical folders that have blades that ride on bearings and flipper opening together. The speed at which the blades open is very quick, pretty much matching that of automatic folders but are more legal to carry and own than such. Bearings and flippers have pretty much caused assisted opening to slowly wane. With assisted opening you have to have some sort of torsion bar or spring in the pivot to provide that snap and by eliminating these, you're eliminating potential issues of the spring or torsion bar breaking, as they have done in the past.
Today's modern production tactical folders are the most advanced they ever have been, using the same materials that are found in higher priced custom tactical folders. These knives continue to sell well in the knife industry, and still, every year a lot of manufacturers introduce new and exciting tactical folder designs. Spartan Blades is no exception to this, they may not have a broad line of tacticall folders (yet) but what they have represents the best in tactical folder technology and materials. The Pallas is one of the few manual opening flipper button lock tactical folders on the market now. It's modern design paired with solid button lock and also has bearings in the pivot for smooth and rapid blade action. The handles are CNC machined aluminum to keep the weight down but also to have a strong handle design as well. Priced under $300, the Pallas represents a great value with a high end factory tactical folder. The Spartan Harsey Folder and the newly released Spartan Harsey Folder 3.25 have solid titanium handles and a very sturdy framelock mechanism to secure the blade in the open position. The SHF is highly regarded as one of the best production tactical folders on the market currently, and the new SHF 3.25 takes the strengths of the full size model and reduces the size a bit to a more pocket friendly size, still, using the same premium materials. Then finally, the Zelos - which is Spartan Blades' first production automatic opening tactical folder. This midsize folder sports aluminum handles for ruggedness and light weight and has a straightforward clip point blade and handles that are available in two anodized colors of black and blue. Already with these three tactical folder models, Spartan has a lot of bases covered easily. There's more folders to come!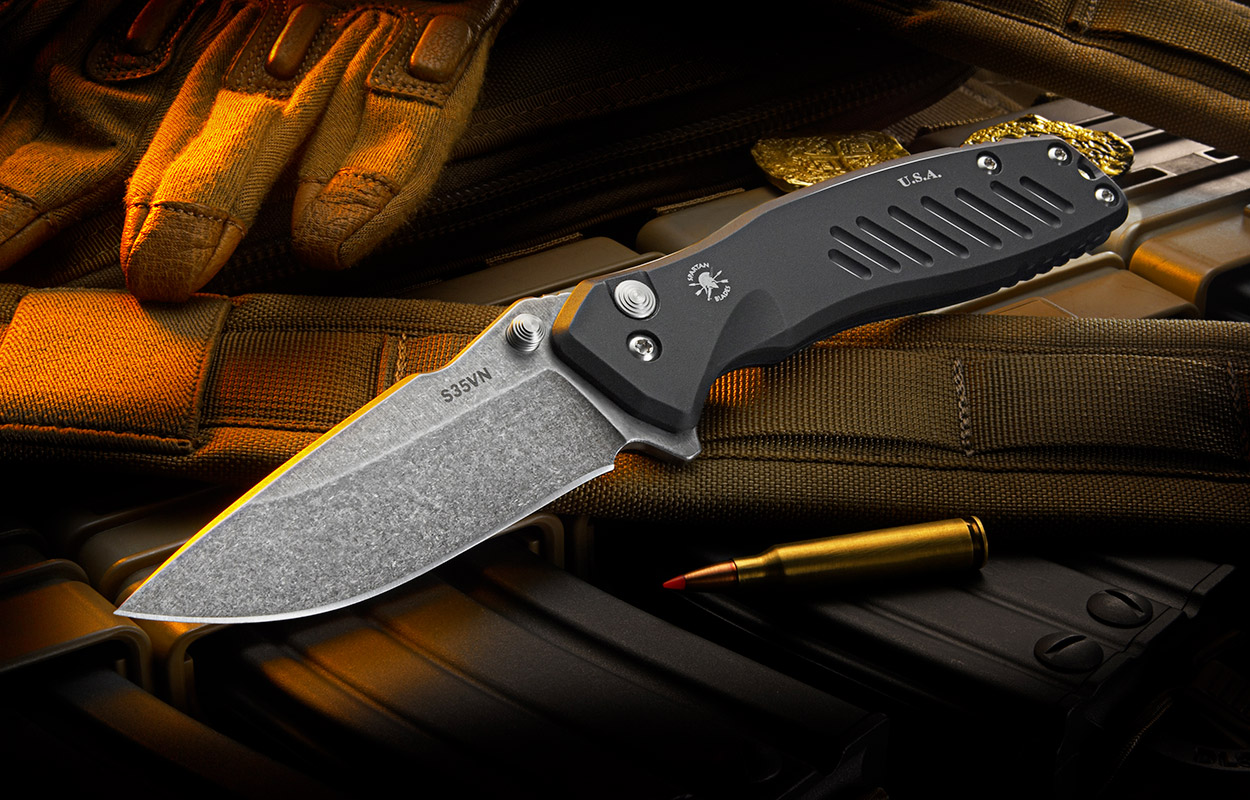 The Pallas is one of the few manual opening flipper button lock tactical folders on the market now.
Thankfully, there's still no end in sight for this tactical folder trend. It still keeps evolving over time with new brands and new models emerging. These are definitely heavy duty use knives. I liken them to be the monster truck of folding knives. They are brawny, rugged, have the horsepower to power through any cutting job big or small, and they have a commanding presence in the knife market that is hard to ignore regardless if you are a custom knifemaker, production manufacturer, or consumer. And it's global too - not just the USA producing really good tactical folders but Asia and Europe as well. Keep a watch over this segment of the market and you will see that it is huge and still has the momentum it needs to propel itself forward for many more years to come. Spartan Blades has established themselves as a major player in the tactical knife market so no doubt, they are a major player in the tactical folder genre as well. Stay tuned, more exciting stuff to come from them with this!