Posted by By Dexter Ewing on Jul 29th 2020
Combat utility fixed blades are the staple of the current Spartan Knives lineup. These styles of blades are designed to fill two roles - a tool and a back-up weapon. The knife has to be designed and constructed so that it can do both, well. Perhaps, Ka-Bar's iconic USMC combat utility fixed blade is the epitome of this genre and is what everyone models their blades after. The Kabar version wasn't made from high tech materials, but rather made from what worked well. Given the passage of time and advancements in knifemaking materials, today's combat utility knives are stronger than ever and built to withstand extended use as well as rough use. Modern high performance stainless steels are formulated to help hold the cutting edge longer but on the same token, they are harder to resharpen. Therefore, one must acquire the proper sharpening equipment necessary to facilitate this.
Modern combat utility knives also make use of advanced knowledge when it comes to handle ergonomics. The handle is the user interface of the knife, if you will. It's the part that connects the user with the tool. Simple fact of the matter is, if the handle isn't comfortable then the knife will not get used. Period. Doesn't matter how expensive the knife is or how well the blade design adapts to combat utility roles, if the knife handle isn't comfortable, then the user will opt for something else. This is where the use of G-10 and micarta come into play. These materials are lightweight, strong, and impervious to fluids and weather. They can be machined with contours, radiuses, and even three dimensional texturing for user hand traction. Advanced handle designs incorporate finger recesses, swells, tapers, and such so the user's hand fits better. It's like putting on a glove. It just has to fit well.
Blade shapes are pretty much straightforward. You can't go wrong with a modified clip point blade. Put some belly to the blade to enhance its slicing abilities and the tapered point makes it easy for opening cans and even self-defense use as a backup weapon to your primary weapon. The blades of combat utility knives have a lot asked of them, to be able to fill various roles. The knife may be your only tool at the time and it must be ready for anything. At times it can be an expedient hammer, wood splitter, prybar, kitchen knife, awl, ice pick, axe...as well as a cutting tool. And most of the time, these knives are not treated with kid gloves either. Combat utility knives are used hard. Beaten like a red-headed stepchild. Driven like it was stolen. You get the point. Whatever it takes to get the job done and when this is the only tool that you have at the time of the emergency, you do whatever it takes to get to safety. This is yet another reason why advanced handle and blade materials of modern knives today excel in durability. Lesser materials will wear out and/or just break.
Within the Spartan Blades line, you have great choices for combat fixed blade utility knives. Starting with their Silver/Pro Line of made in USA knives, you have the Damysus and Machai models. Both are made from 1095 carbon steel, these knives feature both toughness as well as ease of maintenance. 1095 has been proven by companies like Ka-Bar and TOPS Knives to be able to hold their own against the high performance stainless steels, though, you will need to resharpen more frequently. That being said, the lower cost to acquire the material is less than high performance stainless steel so the savings are passed on to the consumer end. The Damysus (https://spartanbladesusa.com/shop-all/damysus-fixed-blade-knife-pro-grade/) blade length is 5.5 inches and the Machai is 6.6 inches. Both knives feature micarta handle scales that are deeply checkered for an enhanced grip in any weather condition. The Machai (https://spartanbladesusa.com/shop-all/machai-fixed-blade-knife-pro-grade/) features a reverse curve blade shape that enhances slicing and chopping while the Damysus blade shape is highly adaptable to many scenarios. It is your "go-to" blade shape. It's worthy to note as well, that the Silver/Pro Line from Spartan is actually made by Ka-Bar their partner company, to Spartan specs.
Moving up to the Gold/Elite Line, we actually have the most choices in this category, Horkos, Ares, and Hybris for example. Ares and Horkos being some of the oldest Spartan Blades designs, these two have been with the company lineup sinsw just after the company started in 2008. Blade materials are premium CPM S35VN high performance stainless steel. Handles again are checkered micarta.
The Horkos (https://spartanbladesusa.com/shop-all/horkos-combat-utility-knife/) features a blade length of a little over 5 inches in long and is of a modified clip point shape, with a bit of a harpoon tip. The forward finger choil at the tang allows the user to choke up on the grip for more precise cutting.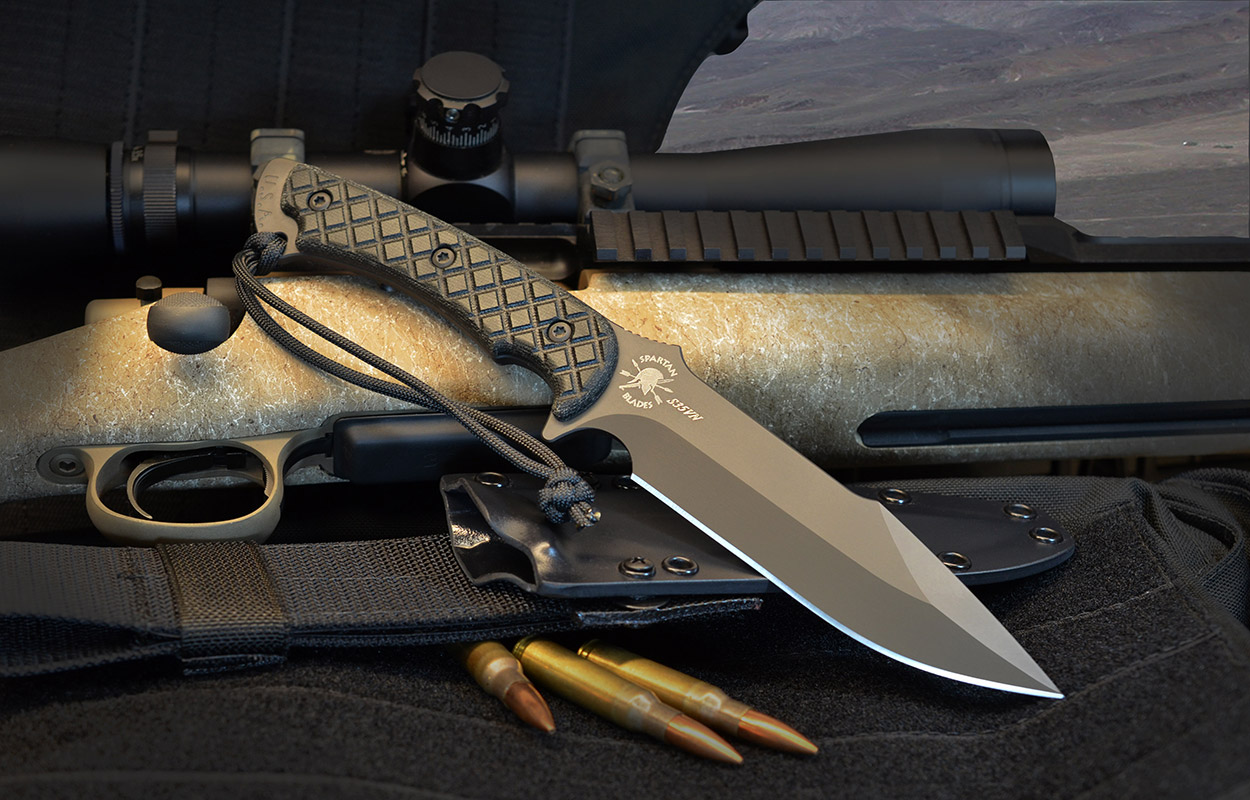 Next up is the Ares (https://spartanbladesusa.com/shop-all/ares-fighter-combat-utility/). It's a more streamlined design, blade shape is a drop point. Measuring 5 ⅜ inches long, the Areas blade is able to slice and stab with ease. If you're looking for a combat utility but are unsure which knife in the Spartan line fits your needs the best, you cannot go wrong with choosing the Ares.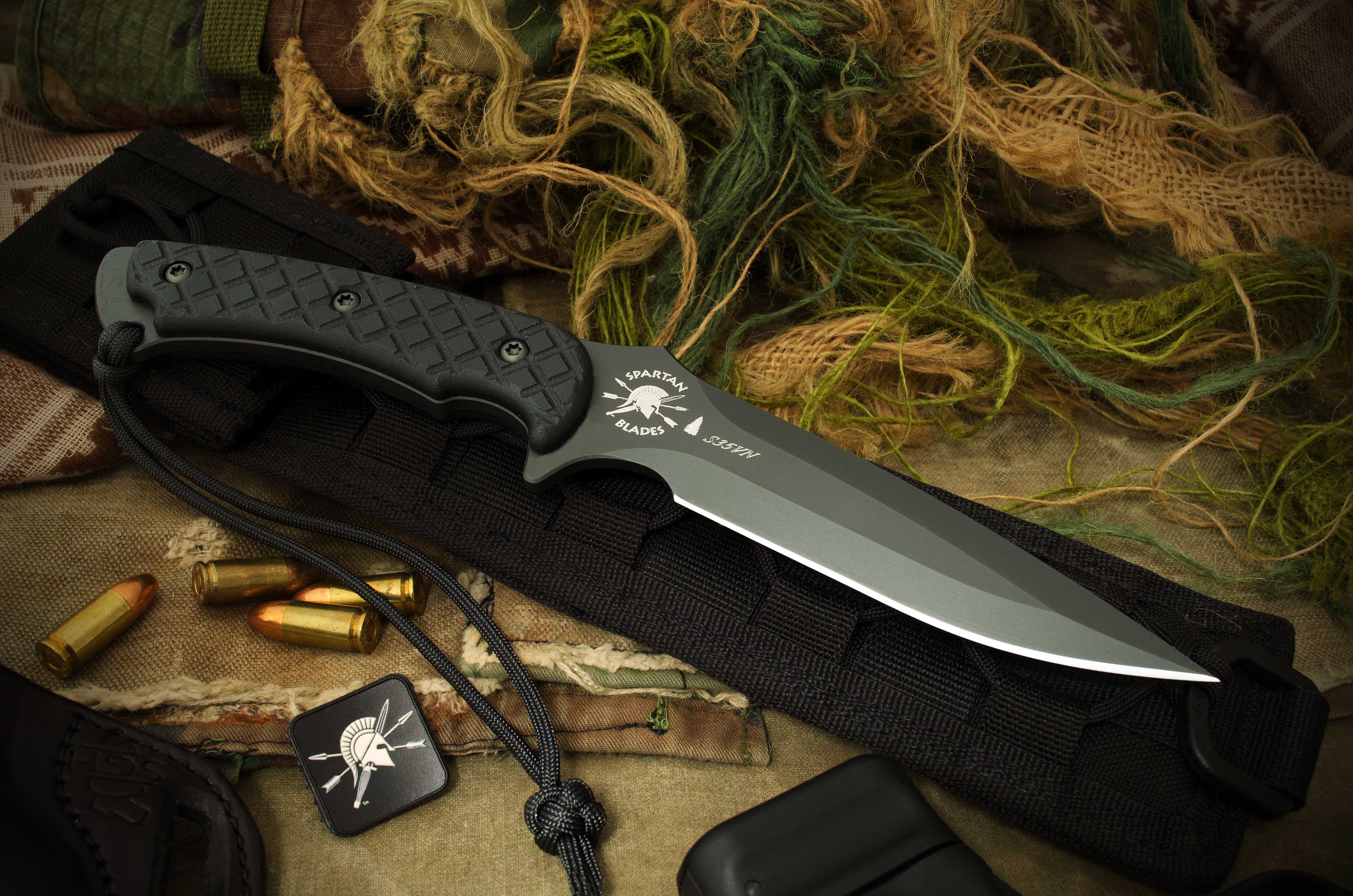 Moving on to the Hybris (https://spartanbladesusa.com/shop-all/hybris-combat-utility-knife/)s, its blade length too is a little over 5 inches. The blade shape is a reverse tanto/sheepsfoot style, with the reinforced blade tip. Not necessarily a stabber, but the Hybris can take on a multitude of jobs as well. The reverse tanto/sheepsfoot blade tip helps to reinforce it so tip breakages will be a thing of the past now. Yet, there's still some a point on the blade to facilitate some tasks that require stabbing or scoring. And like the Ares and Horkos models, the Hybris incorporates a forward finger choil for choking up on the blade for more control. The slight curve to the blade's cutting edge accentuates cutting power for more effective slicing work.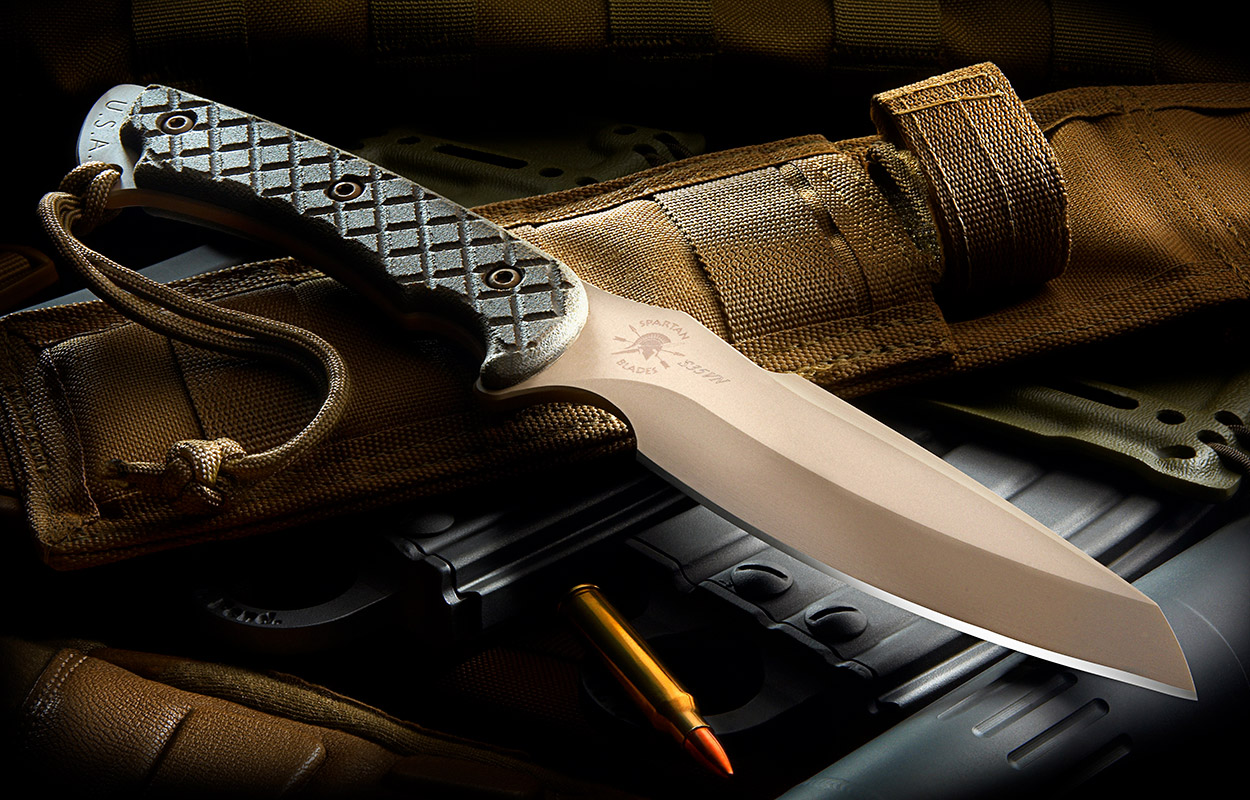 The Gold/Elite Line also features fixed blades that were designed by leading professionals in-the-know about the fields of work. The Ronin Shinto tactical fixed blade was designed by Tu Lam, former Special Forces soldier and CEO of Ronin Tactics. He is a leading authority on self defense, combatives and trains LE and Military. He is also a playable character in the wildly popular Call of Duty: Modern Warfare computer game. Lam used his experience serving with the Special Forces to design the Ronin Shinto (https://spartanbladesusa.com/shop-all/spartan-ronin-shinto/), it is pretty much the fixed blade he wanted when he was serving overseas. It was meant to be a survival blade that the Green Berets would be proud to own and use. The 5 ⅝ inch long recurve spearpoint blade can adeptly handle both chopping and slicing chores, while the machined G-10 handle is impervious to the elements and sports a pronounced forward hand guard. The large scallops on the front of the G-10 handle allow the user to employ a pinch grip on the blade for control, and the finger choil allows for choking up on the blade for better control.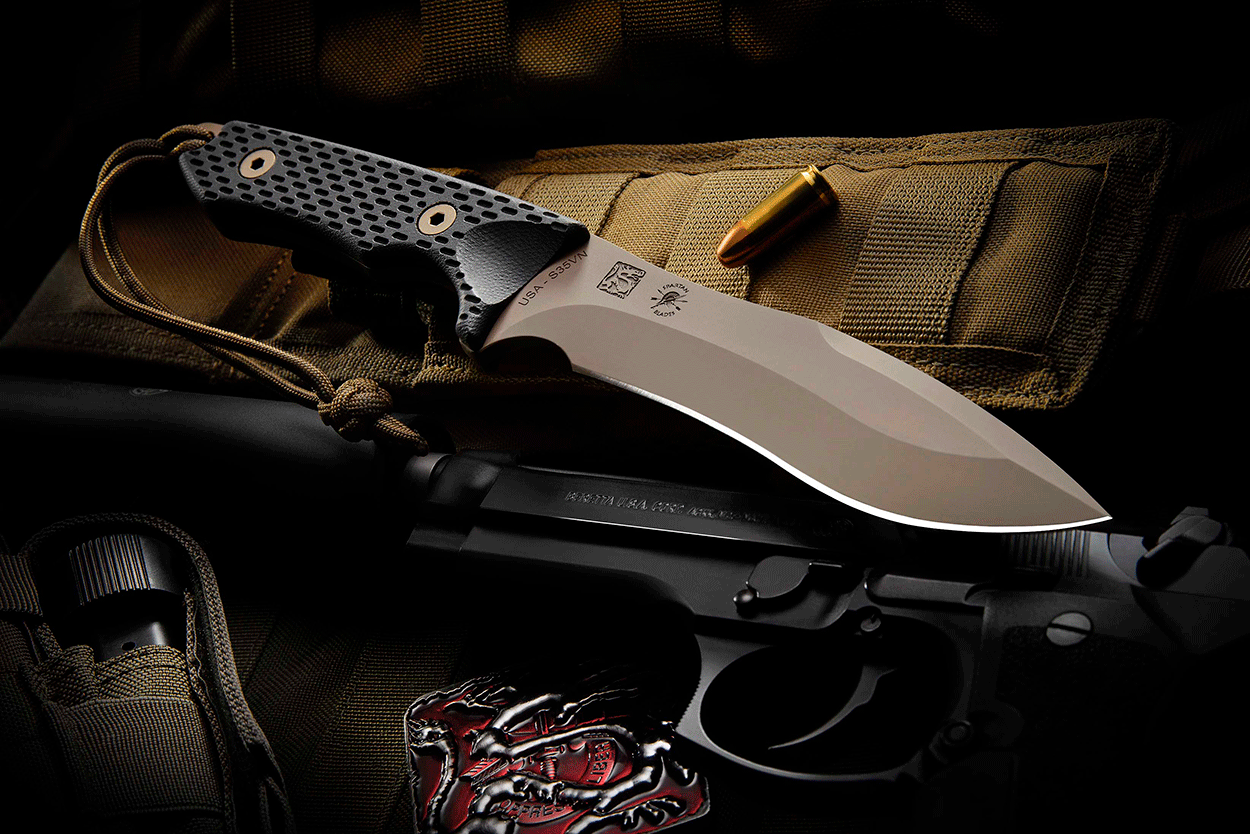 Custom knifemaker Bill Harsey designed the Difensa (https://spartanbladesusa.com/shop-all/spartan-harsey-difensa/) to be the ultimate combat utility tactical fixed blade knife. Its blade length is 6 ¼ inches long and is built to take on a wide array of tasks. From slicing to chopping and everything in between, the Difensa can handle anything you throw at it. I think this one is the best of the bunch, but that's just my opinion. Harsey is one of the best in the business for designing tactical fixed blades. And if smaller blade sizes are your thing, might want to check out the Harsey designed Tactical Trout (https://spartanbladesusa.com/shop-all/spartan-harsey-tactical-trout/). It's blade length is only 4 inches but it carries very well on the belt. The handle features the two finger groove for indexing both the forefinger and the middle finger, and according to Bill Harsey - these two fingers are the strongest of the hand. So it makes sense to index those and allow them to grip the handle tightly, for a very secure yet comfortable grasp on the handle.
That's it. A complete rundown of the knives that are combat utility oriented in the Spartan Blades product line. Regardless of which model you select, either from the Silver/Pro Line or the Gold/Elite Line, you will be getting an expertly designed and precisely crafted fixed blade that will serve you well as both a highly functional tool and an effective weapon if need be. These knives are all made in the USA. The Silver/Pro Line is made by Ka-Bar Knives in their Olean, NY factory, and the Gold/Elite Line is manufactured in Spartan Blades' Southern Pines, NC facility.